by Hitoki Den
Ban Ki-moon's mixed legacy
January 4, 2017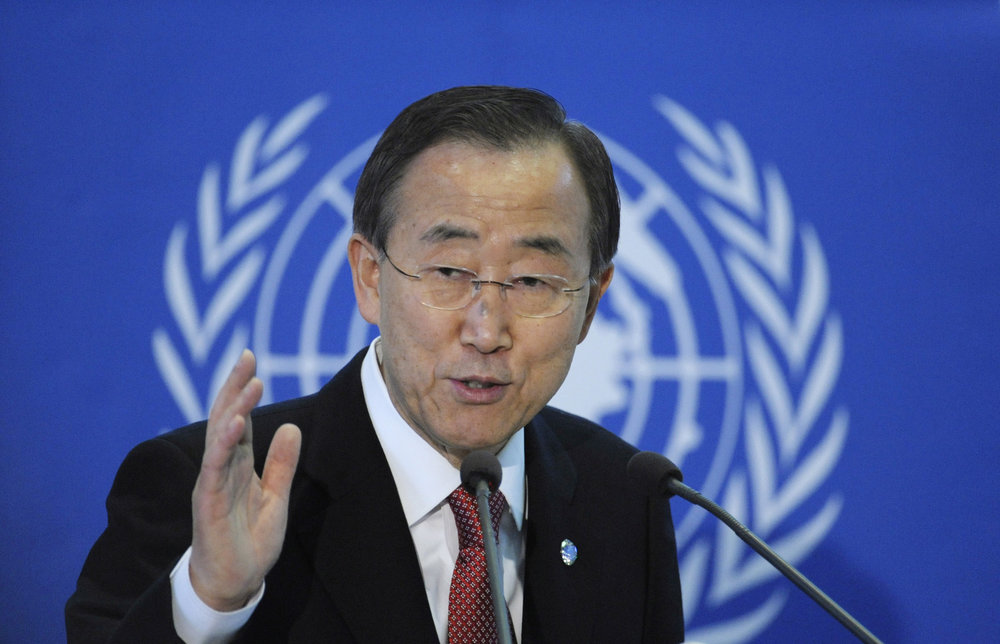 UN Secretary-General Ban Ki-moon stepped down at the end of September, leaving behind a world that he says has been engulfed by more protracted and complex armed conflicts than a decade ago when he took the helm of the world organization.


Looking back at 2016, crises continued unabated in many places in the Middle East and Africa, including Syria, Afghanistan, Iraq, Libya, South Sudan and Yemen. Millions of people have been displaced in the crises that are deepening in the Sahel region. In Asia, tension has been higher than before on the Korean Peninsula, where North Korea has conducted two nuclear tests and test-fired more than 20 ballistic missiles since January. And more countries have been subject to the growing threat of international terrorism. The world has indeed become a less safe place to live.

Addressing the world leaders who gathered for the annual General Assembly session in September, Ban vented his frustration at the United Nations' 193 member states for the organization's failure to resolve global crises: "Far too often, I have seen widely supported proposals blocked, in the name of consensus, by a few or even just one country. … Time and again, I have seen essential action and good ideas blocked in the Security Council; blocked in the General Assembly; blocked in the budget process, the Conference on Disarmament and other bodies."

The organization's ineffectiveness

Given that the UN is an organization composed of sovereign states, its member states in general, and the Security Council in particular, are primarily to blame for the organization's ineffectiveness in maintaining world peace. However, as a two-term secretary-general, Ban cannot entirely dodge responsibility for the world body's poor performance.

Since assuming office in 2007, Ban, a former foreign and trade minister of South Korea, has been characterized as "hardworking" and "sincere" but lacking charisma and leadership. Global media branded him as a "powerless observer" or a "nowhere man" who was seen as absent when his intervention was called for.

His diplomatic intervention was left mainly to his envoys and representatives to undertake, rather than conducted by himself. In statements and appeals, Ban often repeated his usual mantra of "expressing concerns" and "urging" protagonists to make efforts to resolve the issues. Handicapped by his lack of fluency in English, Ban meticulously followed the script prepared by UN bureaucrats when he met foreign dignitaries, issued statements or held news conferences, which also led to criticism that he was "dull" and "unengaged."

The solution of conflicts or disputes is less attainable if matters are left entirely to the hands of member states whose foreign policies are dictated, understandably, by their respective national interest. That is why intervention by the secretary-general in the forms of providing good council, facilitation and/or mediation, as an honest broker, based on impartiality and justice and in accordance with the UN charter, is often considered useful and requested for the settlement of actual and potential conflicts.

Ban sharply differed from his two immediate predecessors — Egypt's Boutros Boutros-Ghali and Ghana's Kofi Annan, both of whom were remembered for the dynamic and charismatic role they played as secretary-general. Boutros-Ghali was credited for his 1992 "Agenda for Peace," in which he defined the UN's role in the field of maintaining international peace and security, while Annan was awarded the 2001 Nobel Peace Prize, together with the UN, for his role in revitalizing the organization and safeguarding human rights.

Leadership role

Both of them also demonstrated their leadership role for UN reform, particularly that of the Security Council. The momentum generated by the two secretaries-general for reform of the Security Council dissipated quickly under Ban, who took a hands-off approach by maintaining that the matter was "up to the UN member states to decide."

Boutros-Ghali and Annan attached utmost importance to the independency of the office of secretary-general; Ban was extremely careful not to offend any of the powerful permanent members of the Security Council — China, France, Russia, Britain and the United States — a factor that led to his re-election to a second term in 2011 despite criticism from civil society that he was too deferential to the major powers.

At his recent farewell news conference, Ban defended his 10 years of performance and claimed that both the 2015 adoption of the Sustainable Development Goals and the 2015 Paris Agreement on climate change were his major legacies. As he himself admits, however, these agreements, reached toward the end of his term, have yet to be implemented and their value can be judged only by history. Ban's legacy, if any, was also tarnished by his lackluster response to the sexual abuse scandals involving UN peacekeepers in Africa and the cholera outbreak in Haiti, also caused by UN peacekeepers.

Come Jan. 1, Antonio Guterres will become the new secretary-general, inheriting an organization that has been weakened and has become less relevant. During his swearing-in ceremony at the UN headquarters earlier this month, Guterres pledged that he will "build trust between people and their leaders and to reform the UN to better serve all people everywhere."

There are relatively high expectations for Guterres, a former prime minister of Portugal who served as head of the UN refugee agency from 2005 to 2015, to be a strong and effective secretary-general. As the world will closely watch his initial performance, Guterres should spare no efforts to restore the credibility and trust of the organization so that the UN can once again play a central role in making the world a safer place to live.
(Source: The Japan Times)