Zarif, Lavrov, Muallem to meet in Moscow
April 12, 2017 - 20:40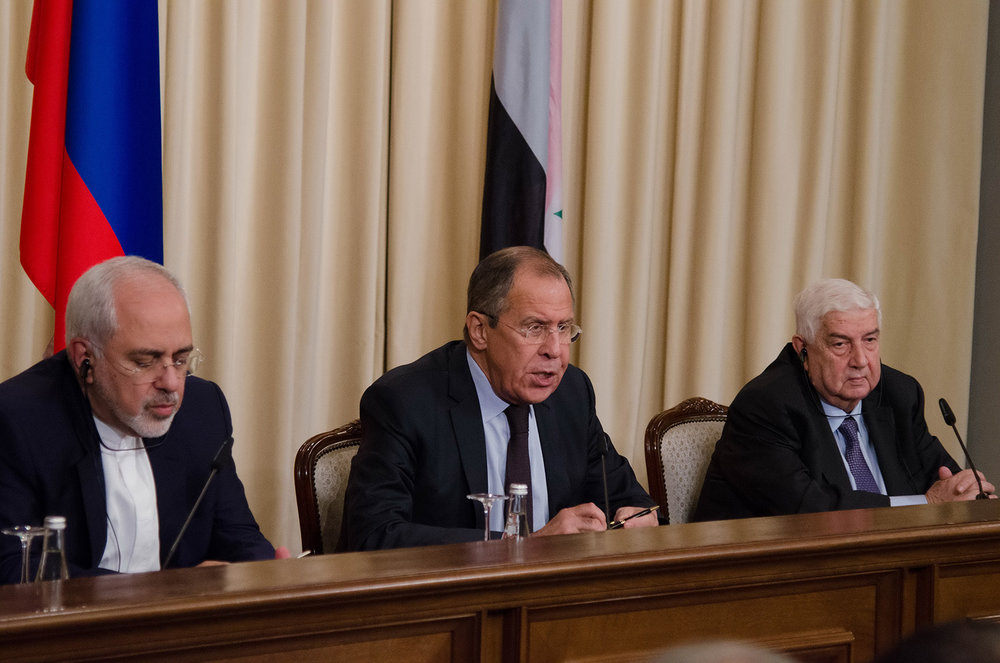 TEHRAN – Iran's Foreign Minister Mohammad Javad Zarif will head to Moscow on Friday to hold talks with Russian and Syrian counterparts on the latest developments in the Syrian battlefield after the recent U.S. missile attack. 
Tehran and Moscow both confirmed the visit.
"Foreign Minister Mohammad Javad Zarif with visit Moscow on Friday to participate in a meeting with foreign ministers of Russia and Syria," Foreign Ministry spokesman Bahram Ghasemi said on Wednesday.
The last time the top diplomats sat down together was October 28, 2016.
"On April 14, a trilateral meeting of foreign ministers of Russia, Syria and Iran will take place in Moscow," Russian Foreign Ministry spokeswoman Maria Zakharova told reporters on Wednesday, according to ITAR-TASS.
The military and political situation in Syria would be in focus of the talks, Zakharova said.
The ministers "will discuss measures needed to coordinate trilateral steps, so as not to let the situation aggravate and the efforts for a political settlement in Syria be derailed amid the U.S.' armed aggression against Damascus," she said.
On April 13-15, Syrian Foreign Minister Walid Muallem is due to pay a visit to Russia on the invitation of Lavrov, she noted, adding Lavrov and Muallem are expected to hold bilateral talks.
The meeting comes after the U.S. fired 59 cruise missiles at Shayrat airfield in Homs province in western Syria on April 7, from which it claimed a deadly chemical weapons attack was launched two days earlier, the first direct military action Washington took against Syrian government forces in the six-year-old conflict.
Also, on Wednesday Secretary of State Rex Tillerson arrived in Moscow to discuss the complex situation in Syria with Lavrov.
Condemning the attack in a joint statement, Russia and Iran warned the U.S. they will "respond with force" if their own "red lines" are crossed in Syria and threatened action in response to "any breach of red lines from whoever it is".
"What America waged in an aggression on Syria is a crossing of red lines. From now on we will respond with force to any aggressor or any breach of red lines from whoever it is and America knows our ability to respond well," the group's joint command center said.
Also, Russian President Vladimir Putin and Iran's Hassan Rouhani said in a phone call that aggressive U.S. actions against Syria were not permissible and violated international law.
The two leaders also called for an objective investigation into an incident involving chemical weapons in Syria's Idlib and said they were ready to deepen cooperation to fight terrorism, the Kremlin said in a statement on its website.
AK/PA