Health minister: Rival factions have denied county of 'balanced vision'
July 26, 2017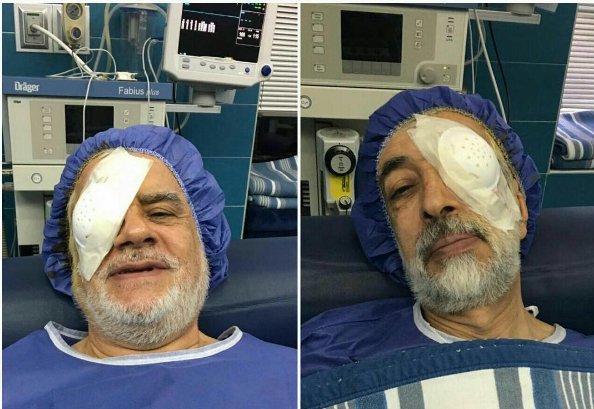 TEHRAN – In a post on his website on Tuesday Health Minister Hassan Ghazizadeh Hashemi, an eye surgeon, has said he had wished Iranians politicians would not have been divided into "rightists" and "leftists" and that all had worked cooperatively for the best interests of the country.
The post by the health minister followed after he did surgeries on the eyes of two senior politicians: "rightist" politician Gholam-Ali Hadad Adel and "leftist" politician Mohammadreza Aref.
The minister did operations on Aref's "right eye" and Hadad Adel's "left eye".
Aref, a former first vice president, is now the leader of the pro-reform Hope faction in the parliament. Hadad Adel is also a principlist who was the speaker of the parliament from 2004 to 2008.
"I jokingly told these two respected figures that the major problem of the country has shown itself in your eyes! And I explained that political currents have actually denied themselves and the country of the gift of 'Balanced Vision'."
Ghazizadeh Hashemi, who is one of the most loved ministers for his much-praised health reform plan, added it has been his deep wish that "all Iranians to be with each other and work together", a policy which he said has been practiced by the ministry under his leadership.
He said factionalism has sometimes led to some stinging remarks by figures from each faction.
The minister also said experiences of the past 38 years – since the 1979 Islamic revolution – show that the country needs the "capacities" of all people for progress.
"Left and right and moderate must join hands to resolve the problems and this is felt more than any other time in view of today's condition in the world and the region," he noted.
The minister said now that the sights of Mr. Aref's right eye and Mr. Hadad Adel's left eye have been restored it is a hope that "leftists and rightists pay more attention to the country's prospects… see beauties more, and instead of thinking about short-term factional interests to think about the long-term interests and ideals."
In part of his writing, the minister said, "A few days ago a reporter asked me: Are you a reformist, or principlist or a supporter of moderation? In answer I said: none of them. I like to remain the same youth of the early years of the revolution when there were no such factionalism like left and right, and all worked wholeheartedly for our dear country Iran and worked sincerely for the realization of the wishes of the martyrs," the health minister said in post on his telegram.
Ghazizadeh Hashemi was referring to his interview with the Sharq newspaper published on Sunday, in which he said he is neither principlist (rightist), nor reformist (leftist) or moderate, a new faction led by incumbent president Hassan Rouhani.
At the end he has also thanked Aref and Hadad Adel who had given him the permission to publish their photo for his website.