Iran futsal win fifth consecutive title in Asian Indoor Games
September 27, 2017 - 0:3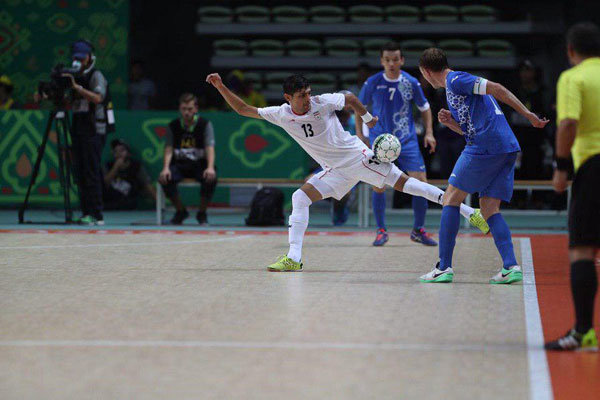 Islamic Republic of Iran clinched their fifth consecutive Asian Indoor and Martial Arts Games men's futsal gold when they beat Uzbekistan 7-1 in the final on Tuesday.
Mahdi Javid and Ali Asghar Hassanzadeh were the stars of the show, scoring six goals between them with Hamid Ahmadidazaj adding the other as Uzbekistan stayed docile.
Iran dominated the match early on, taking the lead though Javid in the fourth minute, who then scored again in the ninth to give them a 2-0 cushion at the break.
In the second half, Seyed Mohammad Nazemalsharieh's men were in cruise control, scoring five goals through Hassanzadeh (21st, 37th), Ahmadidazaj (31st) and Javid (32nd, 36th).
Javid topped the goalscoring charts with 15 goals in the tournament.
Uzbekistan got a consolation from Davron Choriev's strike in the 29th minute.
Meanwhile, Yazawa Daimu's heroics against surprise package Afghanistan earned Japan a bronze medal on Tuesday.
"I am a big goalkeeper. I play the mind games with the penalty taker and make myself look even bigger in the goal. The Japan fans gave me a lot of inspiration during the shoot-out," said Daimu Yazawa.
The 2013 silver medallists experience was evident throughout the match as they fought back from a goal down to overcome Abdul Razaq Momrak's side.
Both sides traded blows in the first half but neither threatened to score and it remained goalless at halftime.
After the break, Kazemi Akbar came within a whisker of putting Afghanistan ahead in the 24th minute but his strike found the crossbar instead.
The match came alive 10th minutes before the final whistle.
Akbar found the net in the 31st minute to give Afghanistan the lead.
Japan, however, got a lifeline four minutes later through Horigome Shota to send the match into extra time.
The tie went to penalties as neither side could break the deadlock in extra time.
At 0-1 down, after Murota Yuki converted his spot-kick, Akbar stepped up for Afghanistan but his shot was saved by Daimu which ultimately led to Japan winning 3-1 through Yagi Kyoto and Hashimoto Masaya, while Ali Jafari scored for Afghanistan.
"This is the first international tournament for me with Japan. We invited only young players. The average age is just 22 so this is a good result for us. It was about giving them experience," said Japan coach Bruno Garcia Formoso.
"Their heads were empty a week ago. Now we have given them this experience. It's good for them.
"This medal will help them a lot in the future. Next they will go on to the AFC Championship qualifiers in Bangkok in November."
Source: AFC