Naqsh-e Rostam: A must-see tourist hotspot in southern Iran
October 12, 2017 - 8:0
TEHRAN – A variety of spectacular massive rock–hewn tombs and bas-relief carvings at Naqsh-e Rostam has turned the ancient site to a must-see for holidaymakers traversing Iran. The Achaemenid necropolis is situated near Persepolis, itself a bustling UNESCO World Heritage site near the southern city of Shiraz.
Naqsh-e Rostam, meaning "Picture of Rostam" is named after mythical Iranian hero which is most celebrated in Shahnameh and Persian mythology. Back in time, natives of the region had erroneously supposed that the carvings below the tombs represent depictions of the mythical hero.
One of the wonders of the ancient world, Naqsh-e Rostam embraces four tombs are where Persian Achaemenid kings are laid to rest, believed to be those of Darius II, Artaxerxes I, Darius I and Xerxes I (from left to right facing the cliff), although some historians are still debating this.
There are gorgeous bas-relief carvings above the tomb chambers that are similar to those at Persepolis, with the kings standing on thrones supported by figures representing the subject nations below. There also two similar graves situated on the premises of Persepolis probably belong to Artaxerxes II and Artaxerxes III.
Beneath the funerary chambers are dotted with seven Sassanian era (224–651) bas-reliefs cut into the cliff depict vivid scenes of imperial conquests and royal ceremonies; signboards below each relief give a detailed description in English.
At the foot of Naqsh-e Rostam, in the direction of the cliff face, stands a square building known as Ka'beh-ye Zardusht, meaning Kaaba of Zoroaster. The building, which is roughly 12 meters high and 7 meters square, probably was constructed in the first half of the 6th century BC, although it bears variety of inscriptions from later periods.
Though the Ka'beh-ye Zardusht is of great linguistic interest, its original purpose is not clear. It may have been a tomb for Achaemenian royalty or some sort of altar, perhaps to the goddess Anahiti, also called Anahita believed to be associate with royalty, war, and fertility.
Getting ready for being World Heritage
The process of preparing Naqsh-e Rostam to get a UNESCO World Heritage tag has entered a new stage with conducting several restoration projects by the means of setting massive scaffolding and laser scanning, a cultural heritage official says.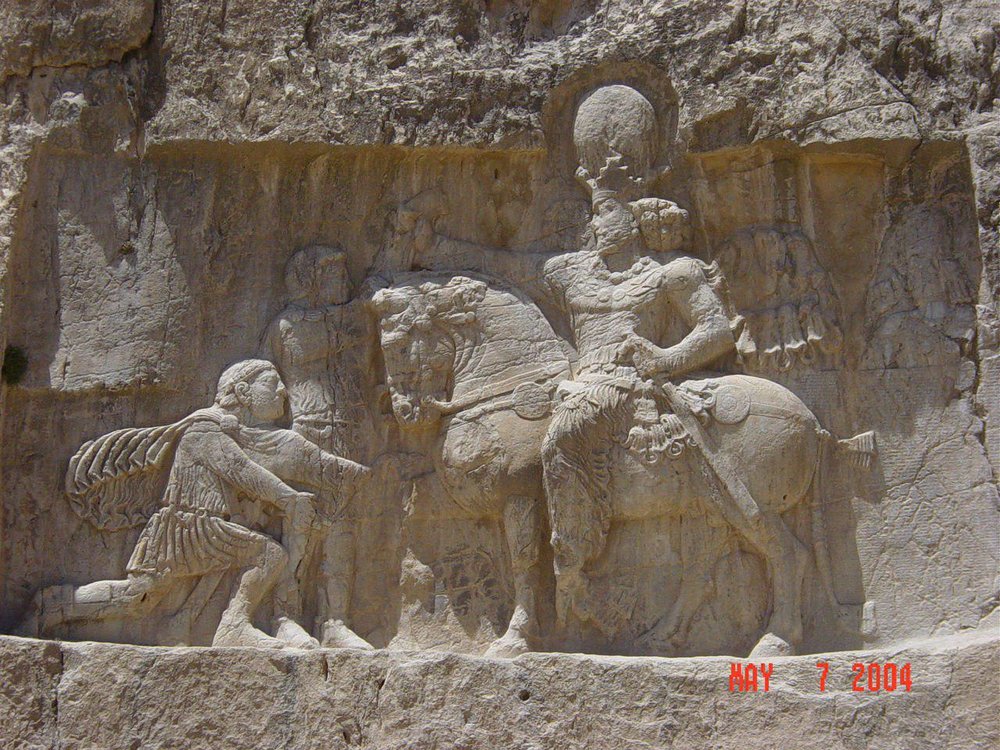 A bas-relief carving at Naqsh-e Rostam depicts the triumph of Shapur I over the Roman emperors Valerian and Philip the Arab.
The site is aimed to be incorporated into the profile of the adjacent Persepolis, itself a World Heritage site, IRNA quoted Masoud Rezaei-Monfared as saying on Monday.
"Laser scanning will provide clear-cut details of the site in order to support exact restoration, the official added.
Under tourists' eyes
In what follows, a select of comments that foreign visitors have already posted to TripAdvisor with regard to the historical site, a fairly popular travel website, has been given:
"A must visit after Persepolis"
They are impressive. The place itself, where they built their tombs, with the high cliffs is an impressive place. You tend not to speak too loud. You admire. You feel humble and modest.
Really an impressive place, far less crowds than Persepolis. Especially on warn afternoons are there is strictly no shade. And the reflection of the sun on the cliff makes this place feel like an oven. Take care of sun burns.
Beautiful sculptures as well by the Sassanids. An absolute must see. Be careful with the heat. Even in spring. I cannot imagine how it is in August. (Eric P. from Bordeaux, France; reviewed April 2017)
"Astoundingly monuments"
This necropolis on the outskirts of Persepolis is frequently called a "mini Petra," and with good reason. The massive tombs built for some of Persia's most famous rulers (including Darius the Great) can be seen carved into solid rock from a considerable distance.
The scale here is astounding. People are dwarfed to insignificance below the massive, carved memorials. Bas reliefs at the base of the rock recount the victories of a later king, Shapur, over the Romans, with magnificently rendered figures of horses. (Kirk E. from Santa Fe, New Mexico; reviewed January 2017)
"Delight"
Worth the visit and whilst viewing just let your mind wander to the bygone days and their habits / customs. Enjoy. (Ray C. from Northampton; reviewed October 2016)

"Where were you, Indiana Jones...?"
The impressive four tombs of ancient Zoroastrian kings is called a necropolis, city of the dead. It's a must-see after having visited Persepolis, but it's a mystery that the entrance fee for the sights is the same. Naqsh-e-Rostam is overlooked in less than 30 minutes.
I didn't see Indiana Jones, but he must be hiding close by. It is his turf.
(Mogeltoft from Copenhagen, Denmark; reviewed July 2016)
"Combine with a trip to Persepolis"
Definitely worth hiring a guide/driver who knows the history of this site & Persepolis. A good day trip - start early to avoid crowds & heat. We visited in Ramadan on a non-public holiday day and there were very few other visitors. Fresh, cool, free water again available. (Pam Q. from Adelaide, Australia; reviewed July 2016)
AFM/MG