By Mohammad Ghaderi - Twitter: @ghaderi62
Trump's compassionate face in Élysée Palace
October 18, 2017 - 10:47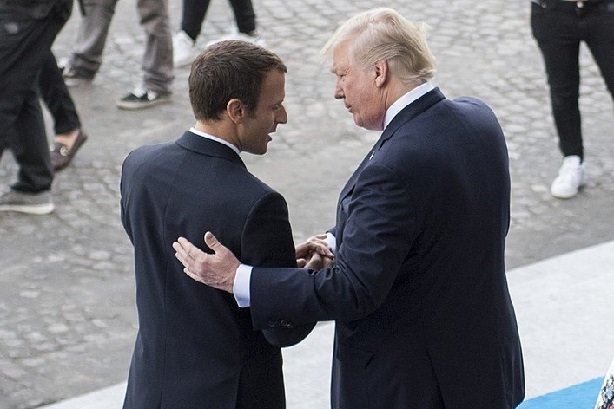 TEHRAN – Showcasing new demands of United States of America "natural", as clear examples of changing nuclear deal, is a tactic that French authorities have used it like British and German officials.
In his latest statements on Joint Comprehensive Plan of Action (JCPOA), French Foreign Minister Jean Yves Le Drian stated "negotiation can peacefully begin in post-JCPOA period."
The French Foreign Minister urged United States of America to maintain and safeguard Iran's nuclear deal dubbed "Joint Comprehensive Plan of Action".
"We believe that U.S. Congress is currently held responsible for the possible withdrawal from Iran's nuclear deal," he maintained.
To us, a landmark nuclear deal inked between Iran and world's six major powers (including five permanent members of UN Security Council plus Germany) in Austrian capital Vienna in mid-July 2015 is a good deal, he said, adding "JCPOA limits Iran's access to nuclear weapons although Iran has always reiterated that development of nuclear weapons is for peaceful purposes."
Under the JCPOA, Islamic Republic of Iran agreed to limit its nuclear activities in exchange for sanctions relief, the report added.
As long as limitation of uranium enrichment in Iran is expired, the door is open for negotiation between Iran and world's six major powers but Washington is interested in exacerbating these restrictions, he said, adding "if Iran's nuclear deal is maintained, we can start preliminary negotiation with Tehran on what will happen after 2025."
In this case, Iran can take advantage of its rights according to NPT (Nonproliferation Treaty), he opined.
He further noted that if safeguards or inspections seem essential on this date, it is possible to start talks on them.
Given the above issue, remarks stated by French foreign minister can be termed as compassionate version of recent statements of U.S. President Donald Trump with regard to Joint Comprehensive Plan of Action.
It should be noted that U.S. President Trump met and held talks with French President Emmanuel Macron on the sidelines of UN Annual General Assembly meeting, held in New York. The two sides conferred on the possibility of renegotiating about Iran's nuclear deal.
Currently, French authorities have accepted two of three requests of Trump as a completely ordinary and usual issue.
At this juncture, French officials state the possibility of renegotiating on the extension of restrictions predicted on JCPOA after 2025 as if any talks have not basically been done between the involved parties.
As mentioned in above, showcasing new demands of U.S. "natural and ordinary", as clear-cut examples of changing nuclear deal, is a tactic that French authorities have manipulated it like British and German officials.
The interesting point here is this that when nuclear talks were underway between Iran and 5+1 in Swiss City of Lausanne and Austrian capital Vienna between 2013 and 2015, the then French Foreign Minister Laurent Fabius had been at the focal attention of many media and analysts pertaining to JCPOA as a controversial personality.
He even hindered temporary signing and sealing of JCPOA, so that stringent and tough position of France was proven for all in nuclear talks.
Although Laurent Fabius has not currently present in foreign policy of France, his successors follow the same previous approach but with kind and compassionate countenance.
What is certain is that foreign policy and diplomacy of our country should emphasize on this position that renegotiating on any of paragraphs and contents of nuclear deal is impossible.
To put it in a nutshell, adoption of any change or interpretation on JCPOA, whether within the framework of annexation, amendment or reinterpretation of paragraphs such as Clause "T" of 1st attachment of nuclear deal, is synonymous with the withdrawal of the opposite party from JCPOA.