By Manijeh Rezapoor
Korean ambassador: home ready to host Iranian art exhibits
October 29, 2017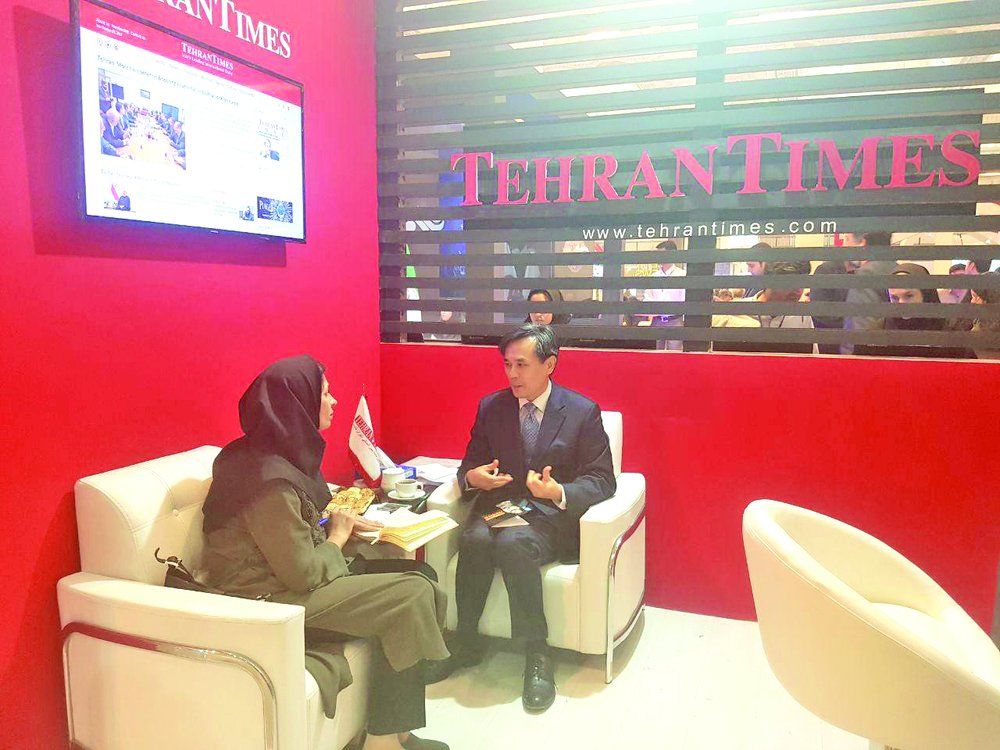 TEHRAN – South Korean Ambassador Kim Seung-ho said on Sunday that he would eagerly welcome any offer from Iranian artists to showcase their works in exhibitions at his residence in Tehran.
"I would like to offer any Iranian artists who are interested to display works in my residence," the ambassador told the Tehran Times in an interview held at the 23rd Press Exhibition on Sunday.
The ambassador visited the Tehran Times pavilion and talked about his interest in Persian art and the future exhibits to be held in Tehran and Seoul.
So far several exhibits have been held at the residence of the ambassador in Tehran including an exhibition of Persian calligraphy works by Iranian artist Javad Bakhtiari and an exhibition of a collection of Iranian marquetry works.
Kim said that he does not have any professional advisor for choosing artworks for exhibits, and that his interest in Persian art varies from calligraphy to painting. He is interested in Persian calligraphy since there is calligraphy in Korea and that shows commonality in the art of the two countries.
He also talked about the next exhibit due to be held at his residence.
"We are organizing an exhibition of fashions to display a number of Iranian and Korean costumes in my residence. But we have not decided about the exact date yet," he said.
Kim next explained about his interest in Persian art.
"Iranian ancient culture is the cradle of humanity, and as humans we enjoy ancient Persian culture. This Persian culture has long affected European culture, and was also taken to China via the Silk Road and then through China, Korea was also affected. That is, Iranian culture is deeply rooted and widespread in Korea, but many people do not know that," he explained.
"The world is very dependent on your culture. That is why I am very interested in your culture too," he added.
Kim also announced that an exhibition of Iranian metal works will open in Seoul on November 15.
"The weeklong exhibit will be held in the central hall of the Korea Foundation. The artifacts have been selected by Iran's Cultural Heritage, Tourism and Handicrafts Organization and 10 Iranian artists will be visiting Korea during the exhibit," he concluded.
Photo: South Korean Ambassador Kim Seung-ho attends an interview with the Tehran Times at the 23rd Press Exhibition in Tehran on October 29, 2017.
RM/MMS/YAW