Araqchi: Iran won't let U.S. hostility to harm nuclear deal
November 1, 2017 - 18:8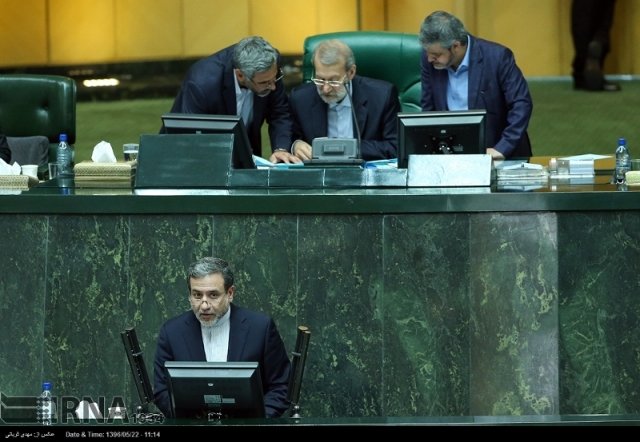 TEHRAN - Iranian Deputy Foreign Minister Abbas Araqchi said on Wednesday that Tehran will not allow an international agreement like the 2015 nuclear deal to be harmed by U.S. hostile actions.
"We will not let an international agreement which was approved by the UN Security Council and has brought many achievements and benefits for the Iranian nation to be harmed by the U.S. hostile policies," Araqchi, the deputy foreign minister for legal and international affair, said at the parliament.
He noted, "We have stood against them (the U.S.) through cooperating with the other members to the 5+1 group, however, we are ready for any scenario if necessary."
The top diplomat added, "We do not count on any specific country to guarantee implementation of the JCPOA [the official name for the nuclear agreement] and we have our own interaction. We rely on our own domestic capabilities."
Araqchi who was a key negotiator in crafting the landmark nuclear accord also said that the U.S. "ill-intentions" are the most serious challenge to the implementation of the JCPOA, or the Joint Comprehensive Plan of Action.
The U.S. has been seeking to reduce Iran's benefits from the nuclear agreement both under the former and current administrations, he noted.
However, the senior diplomat said, the Trump administration has increased pressure on the process of implementing the JCPOA.
He described the U.S. actions such as visa ban and imposition of non-nuclear related sanctions as the Trump administration's "hostile acts" against the JCPOA and the Iranian people.
Under the JCPOA Iran agreed to put restrictions on its nuclear activities in exchange for termination of economic and financial sanctions.
'U.S. seeks to create negative atmosphere'
Araqchi said that the U.S. seeks to create a "negative atmosphere" against Iran and prevent foreign banks and companies from having economic dealings with Iran.
He said that President Trump's policies against the JCPOA have been condemned by all countries and this shows the "success" of Iran's foreign policy.
Iran and the 5+1 group - the United States, Britain, France, China and Russia plus Germany - finalized the text of the JCPOA in Vienna on July 14, 2015
On July 20, 2015, the UN Security Council turned the JCPOA into international law by endorsing a resolution. The agreement went into effect in January 16, 2016.
In his new Iran strategy declared on October 13 Trump decertified the nuclear deal and asked Congress to decide about the fate of the agreement.
Congress now has fewer than 60 days to decide whether to reimpose economic sanctions on Tehran that were lifted under the deal.
NA/PA