Aliasghar Hasanzadeh lands AFC Futsal Player of the Year
November 29, 2017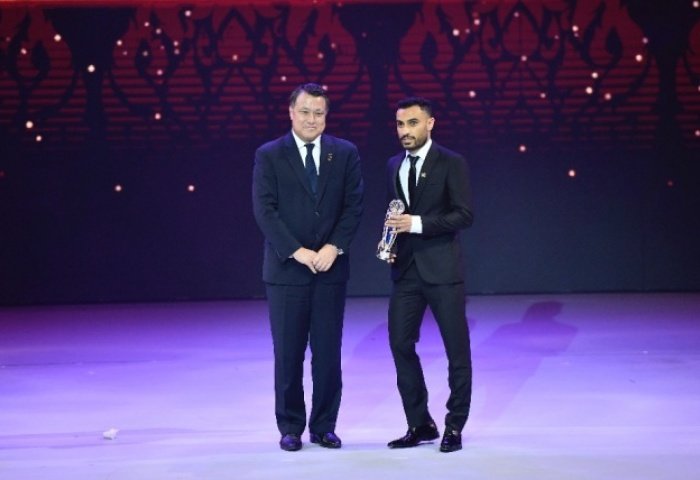 Islamic Republic of Iran's Aliasghar Hasanzadeh has been named the AFC Futsal Player of the Year for the third time, ahead of compatriot Touhid Lotfi and Thailand's forward Jirawat Sornwichian.
After receiving the award in 2014 and 2016, the 30-year-old from Qom joins the ranks of compatriot Vahid Shamsaei, who also won the accolade thrice in 2007, 2008 and 2015.
"I am glad to get this award three consecutive times and of course, I got this award on behalf of all Iranian futsal players and I'm happy to be here. I would like to take this opportunity to thank all managers, coaches and teammates in the club and national team and special thanks to my parents and family for supporting me all the time.
"I appreciate the support from my fans as I get energy from their support all the time.
"Last but not least, I would like to present my award to my countrymen who lost their friends, families and beloved ones in the recent tragic earthquake in Kermanshah and western parts of Iran," said Hasanzadeh.
Hasanzadeh has had a string of successes for club and country, from as far back as the 2007 AFC Futsal Championship to the most recent 2018 AFC Futsal Championship South and Central Zones Qualifiers.
In 2017, the Iranian playmaker scored two goals in the AFC Futsal Club Championship Group Stages, before scoring a crucial goal in the final against Thailand's Bluewave Chonburi. Despite falling short at the final hurdle against the Thais, there was cheer for Hasanzadeh after he was named the Most Valuable Player of the tournament.
Topscorer in the 2013 and 2016 Iranian Futsal Super League with 29 and 26 goals respectively, the influence Hasanzadeh brings into the team isn't just the number of goals scored but his awareness on court and incredible footwork.
That performance was showcased once again at the Asian Indoor and Martial Arts Games in Ashgabat two months later, where he would claim his fourth title with Team Melli Futsal by scoring four goals as Iran emerged champions. His impact came in the form of creating picture perfect opportunities for his teammates in the final third.
His formidable experience is reflected on his synergy with the team, and in his most recent performance in the South and Central Zones Qualifiers, his strong form continued as he carried the team to a 15th AFC Futsal Championship appearance, aiming to defend and claim a 12th title for Iran.
(Source: the-afc)