Mogherini: Nuclear deal is a key strategic priority for EU
December 6, 2017 - 20:22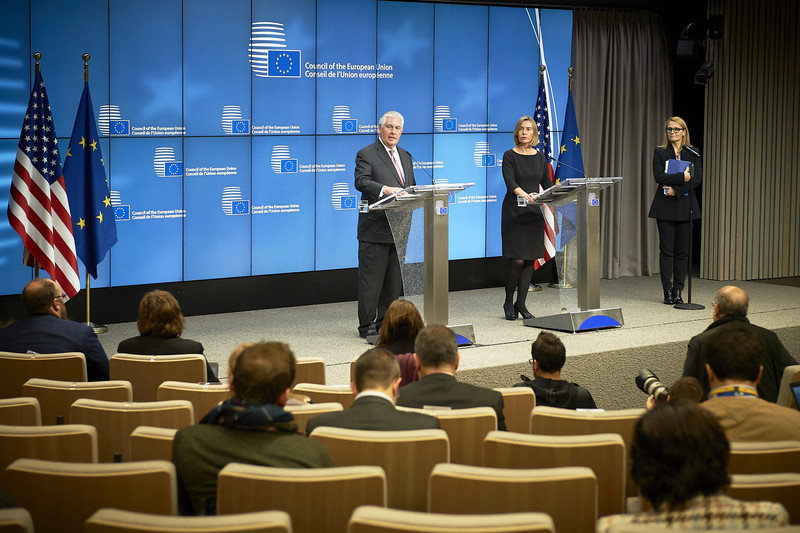 TEHRAN – In discussions with U.S. Secretary of State Rex Tillerson in Brussels on Tuesday EU foreign policy chief Federica Mogherini called on Washington to uphold the 2015 nuclear deal with Iran.
"The Iran nuclear deal is a key strategic priority for European security but also for regional and global security," Mogherini told reporters after the meeting, Bloomberg reported.
She emphasized that the nuclear agreement, also known as the Joint Comprehensive Plan of Action (JCPOA), only dealt with nuclear issues.
"Dismantling an agreement on nuclear issues that is working – as the International Energy Agency has certified nine times – would not put us in a better position to discuss all the rest on the country," she added.
Tillerson said it was important to "hold Iran fully compliant [with the terms of the nuclear deal] but to recognize [that the Iranians] are carrying out destabilizing actions throughout the region."
Iran and the five permanent members of the UN Security Council – the U.S., France, Britain, Russia and China – plus Germany and the European Union signed the JCPOA on July 14, 2015. The deal went into effect on January 16, 2016.
The U.S. government has occasionally accused Iran of not being committed to the nuclear accord. Last month, U.S. President Donald Trump stated that Tehran was not upholding "the spirit" of the JCPOA.
However, since the pact went into force, the International Atomic Energy Agency (IAEA) has repeatedly verified Iran's compliance with the deal.
MH/PA