By Marjan Golpira
The sound of music soothes masses
December 18, 2017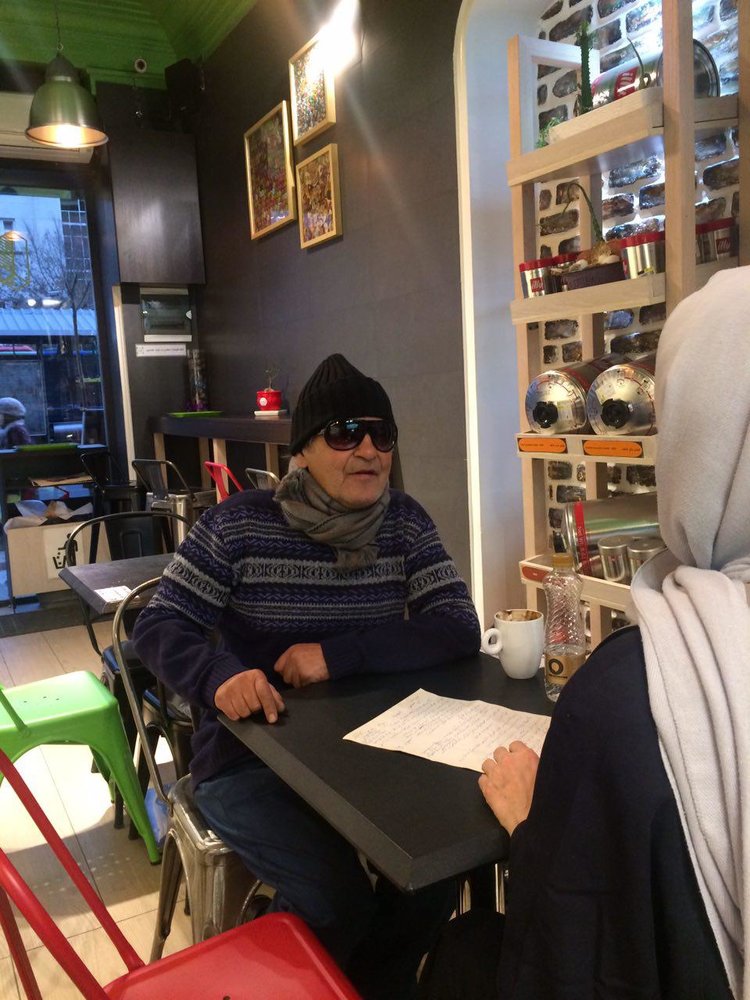 Approaching the exit escalators at the Ferdowsi Metro station in Tehran, above the din of traffic and the hubbub of pedestrians scurrying along comes the gift of live music that warms your soul, caresses your ears and offers relief from the noisome chaos.
There, Bijan Mostofi, 66, plays his harmonica just before dawn until dusk without missing a day.
He knows full well that many people take the train in the morning to get to work and consequently he has a better chance of getting more tips. The more people, the merrier, he hopes.
His hangout is mostly at Ferdowsi station but that's if no other musicians have gotten there before he arrives. If he finds too much competition for the generosity of passersby, he'll move on to other metro stations to play his instrument.
Mostofi loves playing music. He firmly believes it can alleviate pain, and sorrow and if the day should come when he cannot play music, he may well become ill. To him, and who can doubt him, music has a divine aspect, it's a blessing to the body and soul.
Five or so years ago, poverty and bad luck struck him. He was desperate to make ends meet and could think of no better way to survive but to become a street musician, yet in the beginning he couldn't pluck up the courage to try it alone. So, he paired up with a friend,
Iraj, a guitarist, and initially they played together on Vanak and Valiasr Squares, both of which are situated in uptown, upscale and prosperous part of Tehran.
But then Iraj proved to be a bit unruly, disorganized and unreliable, and failed to appear often enough. However, by then Mostofi had gained enough confidence to work alone as a solo artist and the rest is history.
Mostofi discovered music at age 12 when he began with the piano, and later he gradually mastered other instruments, too, such as the flute.
He doesn't play the flute all that often though for the public, because believes Iranians are not very fond of it. The average flute, he claims, is made of sugar cane in Iran and it sounds quite different, and perhaps not as appealing as flutes, including classical flutes of silver, and native homemade flutes that can be heard in the Western hemisphere, and particularly in Latin America.
Surprisingly, Mostofi now earns considerably more playing on the street than he ever earned working as an employee in the regular workforce. To name a few, he tried his hand as hotel receptionist, at a car manufacturing company, and other service provider companies.
He makes somewhere around 100,000 tomans ($25) per day and during holidays and Persian New Year he can earn as much as 500,000 tomans ($125), an amount that puts many less appealing, less pleasant routine and repetitive jobs to shame.
Today, Mostofi is praised for his musical talents and even gets invitations to play at weddings and birthday parties from total strangers on the streets of Tehran. That puts a twinkle in his eye and energy into his melodies, and he plays waltzes, music from Russia and Eastern Europe, but also Bach, a bit of American jazz by Louis Armstrong, and even some famous melodies by the Persian singer Aref.
However, his primary role model is himself. "I want to be me musically," he says. Given his many years as a musician, he knows himself and what he likes best. And what he likes to play best, with his own singular interpretations, apparently charms many on Tehran's streets by the metro station – charms enough to make a living wage for him.
So, next time you happen to pass by Mostofi with his harmonica instrument, you may very well hear Aref's song, "Your Love Never Dies", his favorite song, or his many other melodies that can boost your mood for the day.
Mostofi's way of making a living is not unusual anywhere.
Once, years ago in the subways of New York City, where street musicians are often playing, one of the great classical violinists of all time, Joshua Bell, went down anonymously into the New York subways, and while his instrument case filled up with money, no one recognized who he was at the time. It was a clever ruse, and afterwards, newspapers picked up on his appearance in the subway station.