Ali Qapu to regain former glory after extensive restoration
February 4, 2018 - 8:37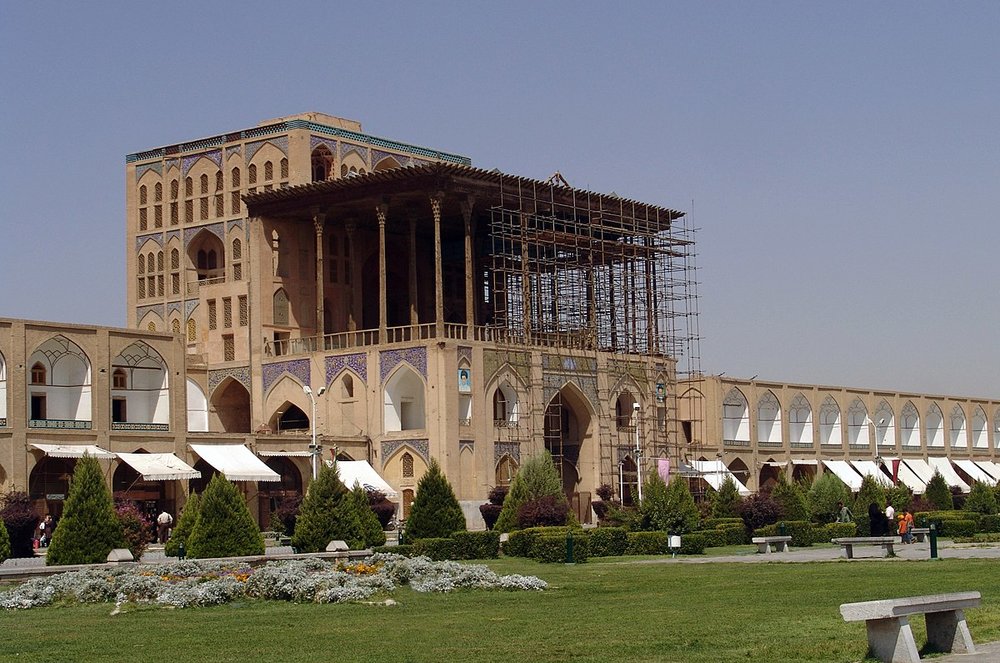 TEHRAN – A long-lasting rehabilitating project on Ali Qapu Palace has entered its final stage as scaffoldings are to be removed from the façade of 16th-century monument in Isfahan, central Iran.
For the first time over the past decade, people can visit the historical palace with no scaffolding poles as of the beginning of the next Iranian calendar year (March 21), Tasnim quoted Fereydoun Allahyari, Isfahan province's tourism chief, as saying on Friday.
"Travelers to 'the Half of the World' will see a different face of the palace by Noruz, [the Iranian New Year]."
Iranians have long termed Isfahan "Nesf-e Jahan", which literary means "Half of the World".
The massive project entailed several phases including rehabilitation of the palace's wooden columns and flooring, he said, adding "The most intricate part was repairing a 30-meter-high decorated ceiling of its terrace, standing on 400-year-old columns."
Throughout the project a layer of decorated wall was brought to light when restorers and archeologists were working on portions that connect the terrace to the main hall.
"Senior cultural heritage experts believe that the palace would be needless to any restoration work up to the next 50 years," the official added.
Built at the very end of the 16th century as a residence for Shah Abbas I, a Safavid king, the six-storey palace overlooks the UNESCO-registered Imam Square.
Profusion of tree-lined boulevards, Persian gardens and important Islamic buildings give Isfahan a highly touristic appeal that is unmatched by many other Iranian cities. In addition, the city is home to many versatile artisans who underpin its reputation as a living museum of traditional culture.
PHOTO: An exterior view of Ali Qapu Palace in Isfahan
AFM/MQ/MG