TMCA provides safe haven for Giacometti's "Walking Man" and "Standing Woman"
March 2, 2018 - 18:43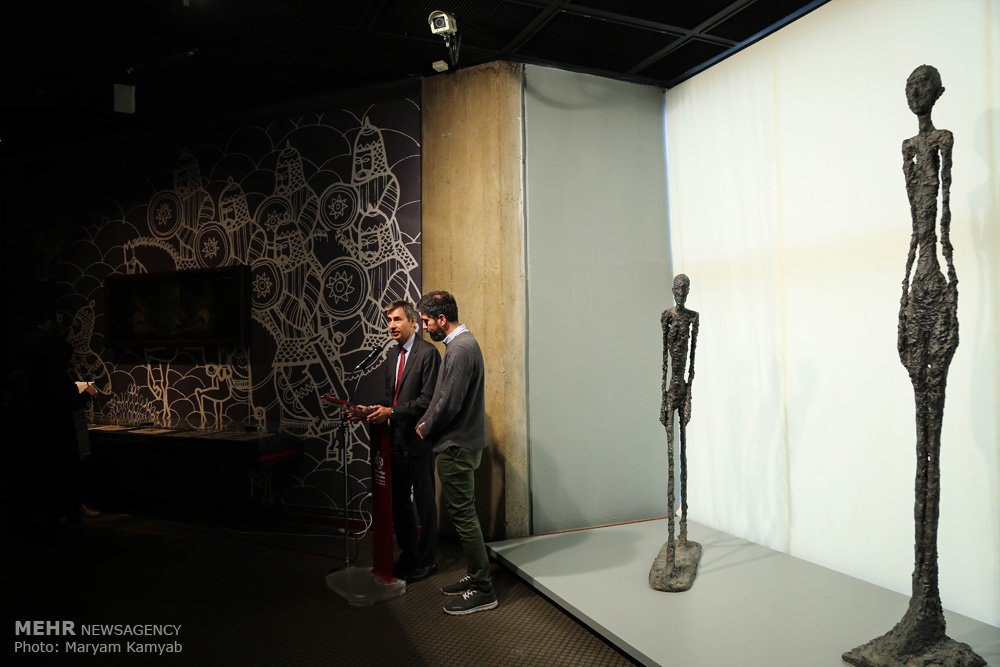 TEHRAN – The Tehran Museum of Contemporary Art (TMCA) has transferred Swiss artist Alberto Giacometti's bronze statues, "Walking Man 1" and "Standing Woman 1", to inside the art center after undergoing minor restorations to repair the damage caused by acid rain and air pollution.
The statues were earlier located in the courtyard of the museum, and the relocation was done in consultation with Swiss art experts Oliver Wick and Hans Peter Marti.
"It was a difficult decision to transfer Giacometti's statues to inside the museum 40 years after setting them in the central courtyard," TMCA director Ali-Mohammad Zare' said on Wednesday after unveiling the restored artworks at the museum.
Wick, Marti, Swiss Ambassador Markus Leitner and a number of artists also attended the unveiling ceremony.
Wick and Marti expressed their happiness over the relocation of the statues and said that there is no longer concern about the artworks.
Leitner said that he attended the ceremony to show how much importance the statues hold for them.
He also showed a Swiss ten-franc note bearing an image of "Walking Man 1" to the audience to illustrate the importance of Giacometti's place in Switzerland.
He said that the TMCA is one of the few art centers having Giacometti's artworks and added that the museum is one of the few places he visited after his arrival in Tehran a year ago.
Examples of the statues are also on display at several major museums and galleries in the world.
The TMCA is also home to works by many other august artists of the West, including Claude Monet, Francis Bacon, Pablo Picasso, Max Ernst, Georges Braque, Jackson Pollock, Mark Rothko, Donald Judd, Andy Warhol, René Magritte, Duane Hanson and Chuck Close.
Photo: Swiss Ambassador Markus Leitner (L) speaks during the unveiling ceremony of Alberto Giacometti's statues, "Walking Man 1" and "Standing Woman 1", at the Tehran Museum of Contemporary Art on February 28, 2018. (Mehr/Maryam Kamyab)
MMS/YAW