By Maryam Khormaei
Iran can't count on Europe: professor
April 17, 2018 - 10:36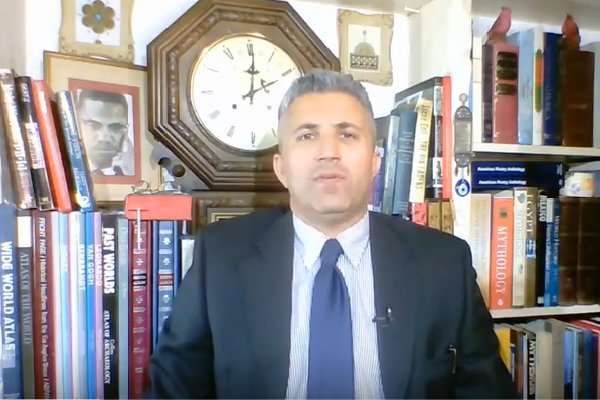 TEHRAN - Alexander Azadegan, professor of global management and international political economy from South California University says "Iran can't count on Europe."
Geopolitical analyst also adds that "At the end of the day, European ship sails in the same direction as Washington. They seem to replaying a good cop bad cop right now (European being the good cop, bad cop being Trump)."
Following is the full text of the interview:
Q: President Trump announced that the removal of time limitation of Iran's nuclear activities, unrestricted inspections to Iranian sites and putting Iran's missile program in the JCPOA are all necessary for the U.S. not to withdraw from the nuclear agreement. Will Europe accept the conditions? What about Iran?
A: As you are aware we had a bit of a coup d'état in the past a few days with the firing of Secretary of State Rex Tillerson and the coming into power of John Bolton an old neocon as the new National Security Advisor. We can predict a lot of patterns that are developing when it comes to JCPOA and Washington behavior in particularly Donald Trump's behavior towards Iran. By raising the threat of refusing to certify Iran nuclear deal, Trump's illogical and unreasonable expectations and demands such as removing time limits on the nuclear deal's restrictions which is believed to last for nearly 10 years until 2025 (please don't call me out on that but there is a limited restriction because this entire deal was based on distrust), then unrestricted inspection and also relating this to the Iranian missile deterrence capability are very very unlikely. You have to understand that the missile deterrence capability is the absolute red line of Iran that should never be crossed. You cannot ask a country like Iran that is practically surrounded by enemies on the southern borders, I mean oil reach dictatorships especially the Saudi regime, to give away its deterrence capability. Such an expectation is illogical and idiotic. Nevertheless that is not going to stop Trump from expressing it. That's since when that it has to not be exactly illogical but totally out of line. The firing of Rex Tillerson the one who was a supporter of the JCPOA even though he is a republican and the coming of a pro-Israeli person like John Bolton who was part of the Project For The New American Century a think-tank which were the brains behind 9/11 and whose aim has always been Iran. My prediction is that we are not going to see any kind of cooperation from Washington and Trump is not going to recertify JCPOA as he does every 120 days. But he is not going to recertify this time in May. Israel's channel 10 which is the main Israeli channel and the only one that is on the cable line up in the North America and Europe is already predicting that this time Trump is not going to certify the JCPOA.
Q: Over the last 3 months, European states made lots of efforts to convince the U.S. congress and administration that a better agreement with Iran cannot be possibly made on the ruins of the JCPOA. Will the EU and the U.S. congress be able to reach an agreement on the JCPOA that can meet Trump's demands? What can such an agreement look like?
A: I have always said that Iran can't count on Europe. At the end of the day, European ship sails in the same direction as Washington. They seem to replaying a good cop bad cop right now (European being the good cop, bad cop being Trump). But ultimately at the end they are not going to scarifies Trillion dollar economic transactional activities over Iran which is a nation of only 80 million people. I am going to go over the size the expenditure when it comes to Iranian economy. First and foremost, 25 billion dollars of goods are smuggled illegally to Iran every year. Official imports to Iran during past 11 years have tripled. 25 percent of this official import along with the entire 25 billion dollars' worth of imports smuggled are consumer goods. Iran purchases 2 billion dollars' worth per year worth of smart phones. Iran is not the largest importer of cosmetic products in the world, again around 2 billion dollars per year. Iran also imports another 2 billion dollars' worth of luxury cars into the country. 5 billion dollars' worth of house goods per year. Iran even imports food items such as fruits, vegetables, tea and rice which can be easily produced domestically. Most of these imported products can be domestically produced or manufactured to save hundreds of thousands if not millions of Iranian jobs. But the trend seems to be in this Keynesian economy theory that is implemented by the new liberals in Iran and believes in the comparative advantage of good to services. So we have that ironies policy going on at the cost of hundreds of thousands of Iranian jobs. The Europeans are very well aware of this situation and pattern of Iranian elite preferring foreign products rather than domestic products. They are aware of that so it is seen as a growing market for them in decades to come. Especially the smaller European nations that are struggling. I need to mention here that the JCPOA was not a European-U.S. deal with Iran. It was a deal that 3 European nations (Germany, Britain and France) independently signed with Iran along of course with Russia, China and the U.S. For us, we put too much weight on the EU mechanism especially the lobbying of the foreign policy chief Federica Mogherini that we are missing the whole point with that. Germany, Britain and France acted independently no matter how much Europeans at the level of Brussels and the European institutions are lobbying for this because at the end of the day it is doing to come down to the specific countries in the Europe. President Rouhani made a trip to Italy and France a few years ago and signed tens of billion dollars' worth of deal. But because of U.S.'s very intricate and complicated of banking transaction and financial agreements, these deals have not been implemented. Total signed a multi-billion dollar contract with Iran to further develop the South pars national gas field but nothing happened with that. Peugeot also whose second market outside of France is Iran in the whole world has not implemented the contracts that signed. The Italians have made some contracts. So far we can count a little more on our Italian partners because their economy seems to be lagging further but Italy is not one of the signatories of the JCPOA. So we have to keep all these intricate things in mine when thinking about this project.