European Union adheres to its Iran deal-related commitments: EU commissioner
May 20, 2018 - 20:13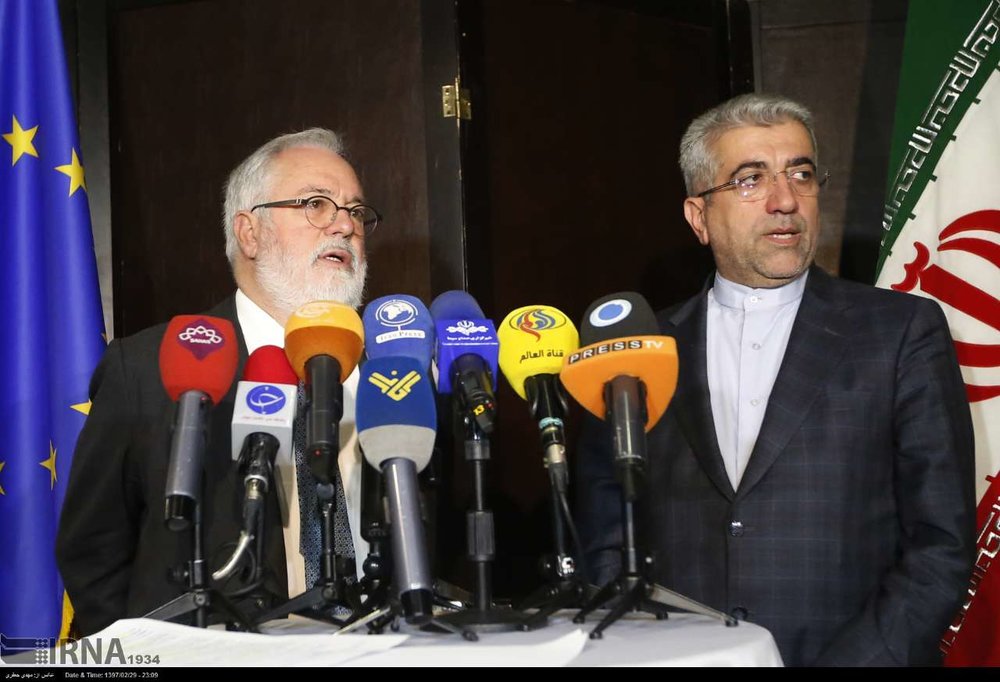 TEHRAN- European Union Energy Commissioner Miguel Arias Canete said that the EU adheres to its commitments under Iran's nuclear deal.
He made the remarks during a joint press conference with Iranian Energy Minister Reza Ardakanian in Tehran on Saturday, the news portal of Iranian Energy Ministry (known as PAVEN) reported.
The EU commissioner said: "In case the U.S. intensifies the sanctions, we will not leave Iran alone and will take strategies to remove barriers in the way of investment making in Iran."
The official, who visited Tehran to present plans for continuing oil and gas purchases and protect European companies despite renewed U.S. sanctions on Iran, also visited Iranian Oil Minister Bijan Namdar Zanganeh on Saturday.
Canete, the first Western official to visit Iran since the U.S. decision, said preserving the 2015 nuclear deal, despite the U.S. decision to withdraw, was fundamental for peace in the region.
"For sure there are clear difficulties with the sanctions," he said during a joint press conference with Ali Akbar Salehi, director of Iran's Atomic Energy Organization, on Saturday.
"We will have to ask for waivers, for carve outs for the companies that make investments", he noted.
Salehi acknowledged Europe's efforts to maintain the nuclear deal.
"We see the European Union is making an extensive effort. They have promised to do so, and God willing, they will put that into practice," he told the reporters.
Ahead of his visit to Tehran, the EU energy commissioner said: "The objective of my visit is to continue to strengthen energy relations with Iran, most importantly now against this new challenging background of President Trump's announcement. The lifting of nuclear related sanctions is an essential part of the nuclear deal."
PHOTO: European Union Energy Commissioner Miguel Arias Canete (L) and Iranian Energy Minister Reza Ardakanian in a joint press conference in Tehran on Saturday