Putin says nuclear deal should be preserved
July 20, 2018 - 21:33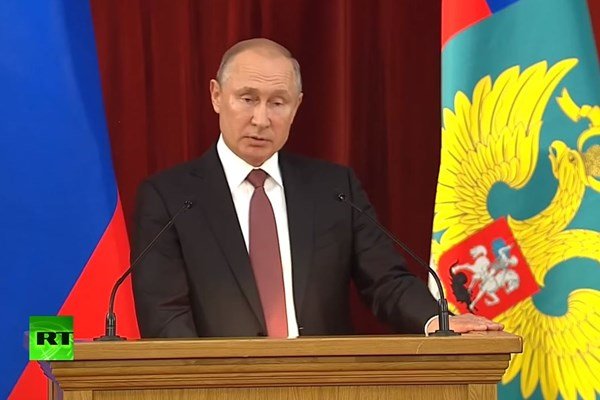 TEHRAN – Russian President Vladimir Putin said on Thursday that the 2015 nuclear deal, known as the Joint Comprehensive Plan of Action, is an important document that should be preserved.
"The current task is to preserve this key agreement and prevent uncontrolled escalation of tensions in the Middle East," TASS quoted Putin as saying during a meeting with Russian ambassadors and permanent representatives.
This document "has the most important role for the global non-proliferation regime," he noted.
"There are examples of jointly reached agreements that were derailed in an instant, I mean the unilateral withdrawal of the United States from the Joint Comprehensive Plan of Action (JCPOA) on the Iran nuclear program," he said.
U.S. President Donald Trump announced Washington's exit from the nuclear deal on May 8 and said sanctions will be restored against Iran.
According to the U.S. Treasury, the first stage of sanctions will be snapped back in August and the second stage in November.
The entire world - excluding despots in Saudi Arabia and the UAE along with extremists in Israel - has expressed an unequivocal support for the preservation of the nuclear agreement without the U.S.
The Joint Commission of the JCPOA met at the foreign ministerial level in Vienna on July 6.
European Union foreign policy chief Federica Mogherini, who chaired the meeting, announced that Iran and the remaining parties to the nuclear agreement had agreed to continue negotiations, including on economic measures, over how to save the deal.
According to TASS, Permanent Representative of the Russian Federation to International Organizations in Vienna Mikhail Ulyanov told reporters earlier on Thursday that a ministerial meeting on the JCPOA may be held on the sidelines of the UN General Assembly in New York in late September.
Russia opposes U.S. unilateral sanctions on Iran, Putin envoy says
Putin's envoy Alexander Lavrentiev said on Thursday that the Russian president regards U.S. unilateral sanctions on Iran as a violation of the JCPOA.
Lavrentiev made the remarks during his meeting with Saeed Iravani, deputy secretary of Iran's Supreme National Security Council (SNSC), in Tehran on Thursday.
Lavrentiev visited Tehran to brief Iranians on a range of issues, including the summit between Putin and Trump in Helsinki, Finland, on July 16.
Iravani, for his part, expressed his gratitude for the Russian president's move to dispatch his special envoy to Iran after the summit and described it as a clear sign of the two countries' commitment to strategic cooperation, according to Financial Express.
NA/PA