Iran to France: Missile program is non-negotiable
August 31, 2018 - 21:33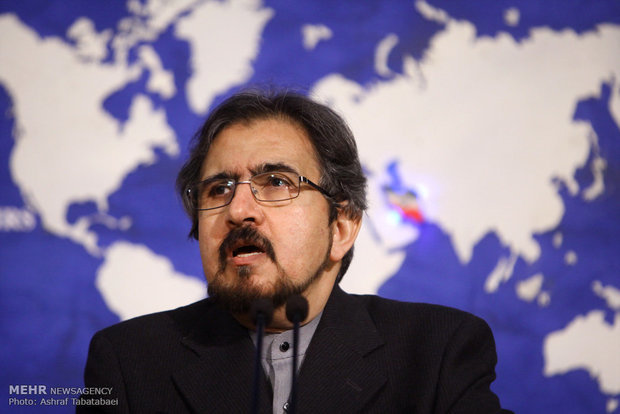 TEHRAN – The Foreign Ministry issued a statement on Friday reiterating Tehran's long held policy that Iran's missile program is "domestic", "legitimate", "defensive" and "non-negotiable".
The statement came as response to French Foreign Minister Jean-Yves Le Drian's remarks that Iran "cannot avoid" talks on its ballistic missile program and regional policies.
The Foreign Ministry said the missile program is "vital" for Iran's security and is totally non-negotiable.
"The world and also the French statesmen are well aware that Iran's regional policies are in line with international peace and security and fight against terrorism and extremism," Foreign Ministry spokesman Bahram Qassemi stated.
Qassemi said the West's behavior has eroded trust for talks on non-nuclear issues.
He said Le Drian's remarks were "unwarranted concerns" founded on a misunderstanding or lack of knowledge about Iran.
Le Drian told a Thursday gathering of EU foreign ministers in Vienna that Iran must respect the fundamentals of the 2015 nuclear deal and should be prepared to negotiate on its future nuclear plans, ballistic missile arsenal and alleged meddling in conflicts across the Middle East.
Iran "cannot avoid discussions, negotiations on three other major subjects that worry us — the future of Iran's nuclear commitments after 2025, the ballistic question and the fact that there is a sort of ballistic proliferation on the part of Iran… and the role Iran plays to stabilize the whole region," he said, according to Press TV.
Qassemi said Iran had always proved that it was not afraid of talks and that it strongly believed in dialogue.
The nuclear talks revealed Iran's good faith and commitment to the principle of negotiation, and could in turn serve as a yardstick against which to measure the West's commitment to its pledges, he noted.
However, he added, the West failed to live up to its commitments after Donald Trump unilaterally withdrew the U.S. from the nuclear deal while other parties stood idle and kept mum.
The comprehensive efforts by Iran and other world powers were simply foiled by the "bullying and greedy behaviors" of the U.S. – an ally of France – and the Europeans' failure to stand against them, Qassemi pointed out.
"Under current circumstances … there is no reason, need, reliability or trust for holding fresh talks on any topic, let alone non-negotiable issues," he said.
The ministry spokesman also noted that Le Drian is aware that the Europeans currently have no other way but to fulfill their pledges under the deal.
"Iran and the Iranians also have no other option but to remain distrustful until the pledges are met," he added.
NA/PA