By Haniyeh Sadat Jafariyeh
Iran, Denmark initiate IP rights co-op
September 5, 2018 - 21:16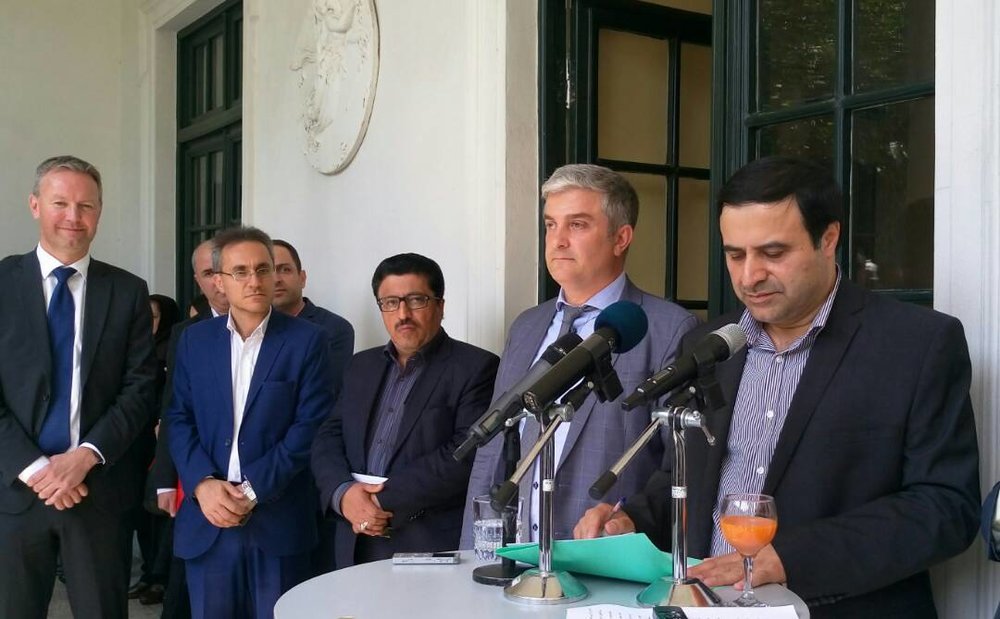 The Iranian Intellectual Property Center and the Danish Patent and Trademark Office inaugurated their three-year close cooperation within the area of intellectual property (IP) rights on Tuesday in a bid to make a closer tie between Iran and Denmark on protection of IP in Iran, to ease attract foreign investments into the Asian country and also improve commercial conditions for foreign as well as Iranian companies in Iran.
The ceremony, held at the residence of the Ambassador of Denmark Danny Annan, was attended his excellency, Counselor of Danish Embassy Terkel Hallberg Borg, Director General at Danish Patent and Trademark Office Sune Stampe Sorensen, and Director General at Intellectual Property Center of Iran Mohammad Hassan Kiani.
The project funded by the Ministry of Foreign Affairs of Denmark is planned for Danish exporters to embark on patents and trademarks to Iran to share their expertise and experiences with the Iranian counterparts.
21 Danish delegations to arrive in Iran by Mar. 2019
In a news conference held prior to the inauguration ceremony of the contract, which was signed in 2016, Ambassador Annan and his councilor made some remarks.
"The Danish Patent and Trademark Office has more than 10 years of experience working internationally, sharing experiences, and with the several Danish companies interested in investing in Iran we feel it is a very good match to share our experiences and make the infrastructure for protecting IP rights in Iran," Borg said.
"Over the last year we have several delegations coming here from Denmark, sharing their experiences and conducting workshops with their Iranian partners now we have increased intensity and before Nowruz (March 21, 2019) we have 21 delegations coming to Iran to share their experiences within many different fields of IP," he added.
Addressing the news conference, Ambassador Annan, expressed his content about the initiated project saying that "in recent years we have seen flourishing cooperation between Iran and Denmark. We have a very good political dialogue, we have had Iranian ministers visiting Denmark, we have had Danish ministers visiting Iran and we expect more visits in the near future."
"We have also seen an increase in government to government cooperation and the recent example in patent and trade mark cooperation is one of those examples," he said, "but not only at official level but also at university and academic level we see good cooperation. We have Danish archeologists excavating in Iran, we have people coming to the Caspian forest to learn more about the Caspian trees and we have other kinds of cooperation between Denmark and Iran."
"We have also seen an increase exchange in people traveling from Denmark to Iran and vice versa for tourist and business purposes," he added.
"But I think the most impressive development has been in our bilateral trade," he said. "It is of course, challenged by the re-imposition of U.S. sanctions on Iran but we have in recent years seen quite substantial growth in or bilateral trade."
"This is of course, not a Danish point of view but a European point of view: we want to be able to continue business with Iran," Annan underlined, "We want to be able to develop trade and investment."
The initiated IP project, as the Ambassador said will be very important in the long term for investment opportunities in Iran. "I am quite sure that it will be a successful project and in the long term it will be able to attract many Danish companies willing to invest in Iran," he said.
Answering the Tehran Times question about the volume of bilateral trade between Denmark and Iran, Annan put the Danish exports to Iran at €300 million in 2017, with the country's imports from Iran substantially lower since Denmark is self-sufficient in gas and oil.
"But we can take a wider scope and look at Iran's exports to EU, which has had a tremendous growth, and that is only one of the reasons that we believe it is important to safeguard the JCPOA. The deal is to the benefit of EU and Iran" he added.
The exports of Denmark to Iran majorly include pharmaceuticals but the exports were much more diversified in 2016 and 2017 i.e. post sanctions era, he further explained. "Danish pharmaceutical companies are focused on Iranian market and for those companies protection of patents is of absolute importance," he told the Tehran Times.
Iran's exports to Denmark include some traditional Iranian products such as handicrafts and carpets besides saffron and pistachio, according to the ambassador. In addition, textiles and petrochemicals stand among the imported goods from Iran to Denmark.
Announcing that a number of pharmaceutical and foodstuff companies have invested in Iran, he did not inform about the value of the made investments. "It is no secret that it was necessary for some Danish companies to leave the Iranian market but a lot of them are staying here and are happy with their positive experience of the Iranian market," he said.
"There is a big focus in Denmark and the EU to see what we can about creating a right frame work for our companies to continue to be in Iran," he added.
Answering our question about the Danish government resolution for the existing banking and money transfer problems that make bilateral commercial ties difficult, Annan said "I think it is when it comes to establishing the right framework for continuing the JCPOA. There are two primary concerns. One of them is continuation of Iranian oil exports and the other big issue is the banking relations. I know E3, the EU and its member states are doing everything to find a solution."
"I think we have also been surprised by the difficulty of finding solutions," he regretted. "But that is not stopping us from trying to do everything we can to ensure that banking relations can exist between Iran and the EU to make sure that SMEs can do business and hopefully also bigger companies primarily within the pharmaceutical and foodstuff sector."

'IP rights protection improves commercial infrastructure in Iran'
Making remarks during the inauguration ceremony of the three-year IP contract, the ambassador expressed satisfaction that during the recent weeks there have been a lot of positive developments and celebration in the Danish-Iranian relations. "Today, we are celebrating another step in the positive cooperation between Iran and Denmark. Today, is the official launch of the strategic cooperation on IP between the two sides ... which will contribute to the improvement of commercial infrastructure in Iran. Our hope and aim is of course for Iran create a better framework for attracting investment in long term prospective and in that regard, protection of patent and trademark is absolutely essential."
"The Danish government is financing 18 similar projects around the world but it is the first in Iran and globally it is the first on IP," he said.
Sorensen, the other speaker of the event, in his remarks spoke of the Danish Patent and Trademark Office's 10-year experience of being involved in international projects and of its negotiations with its counterpart organization in Iran on expansion of mutual cooperation.
"Over the next three years the Danish office will work with the staff of IP center, enforcement agencies such as the Iranian police, customs, judges and prosecutors as well as advisors and agents that are using IP system in Iran," he announced. "Our cooperation will focus on a number of different aspects of IP in Iran with four priorities."
It seeks to reinforce the human and administrative capacity of government agencies that deal with IP rights, create a closer network and interaction between IP actors in Iran, align IP legislation and guidelines to existing best practices and norms, and increase awareness about IP rights to users and consumers, according to him.
Kiani, for his part, referred to the 94-year-old IP regulations in Iran and the country' focus on development of IP specifically during the last two decades.
"The IP contract signed between Iran and Denmark stands among the most influential and practical ones between the two counties. As of December 13, 2016, when the contract was signed in Tehran on a sidelines of a seminar, till he present date, 15 important types of cooperation such as conducting IP studies, various training workshops about patents and trademarks, and etc. have been done," the Iranian official said.
HJ/MA
PHOTO: Director General at Intellectual Property Center of Iran Mohammad Hassan Kiani (1st R), Ambassador of Denmark Danny Annan (2nd R) and Director General at Danish Patent and Trademark Office Sune Stampe Sorensen (1st L) attending the inauguration ceremony of Iran-Denmark cooperation on IP right