Iranian nation has forced hegemons to retreat: Leader
September 9, 2018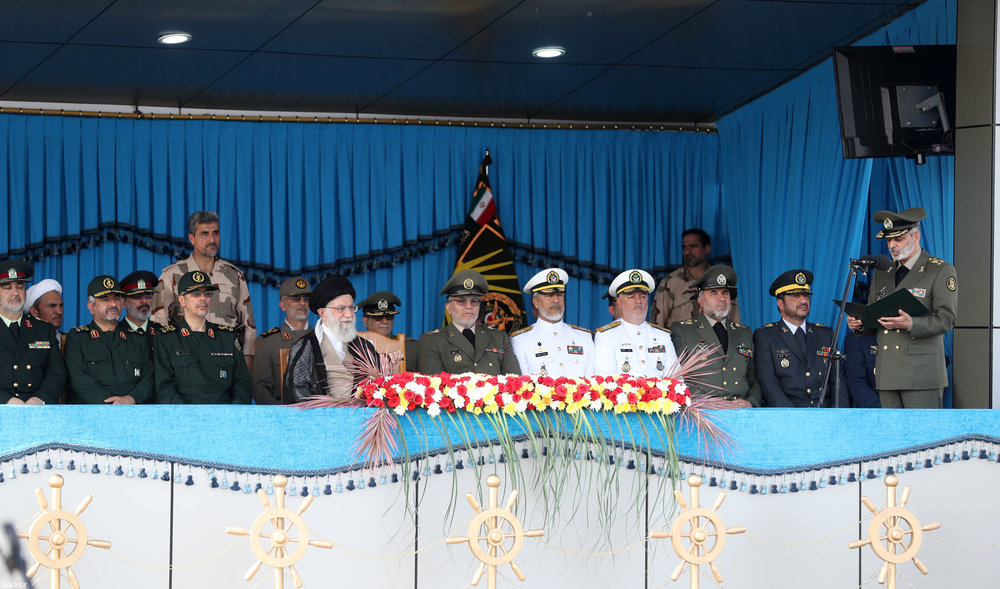 TEHRAN – Pointing to the U.S. government's failed policy on Iran, the Leader of the Islamic revolution said on Sunday that Iran's resistance against hegemonic powers, including the U.S., has forced them to retreat.
Addressing a graduation ceremony of Navy cadets in the northern city of Noshahr, Ayatollah Ali Khamenei deplored the "evil" policy of the global arrogance to create insecurity and instability in the Middle East and hailed Iran's policy to counter their efforts.
"For 40 years now, Iran has been targeted by the sabotage of America and its accomplices, but it has grown from a small seedling to a strong and fruitful tree," the Leader remarked.
"By resisting America, the Islamic Republic and the Iranian nation have demonstrated that if a nation does not fear the frown and threats of the bullies and relies on its capabilities, it would bring about the superpowers' retreat and defeat," he noted.
"[Iran], despite the extreme reluctance and numerous measures of the arrogance, has won the hearts of nations with the message of its revolution and made America's plots in the region fail," he added.
"The global arrogance led by the cruel and oppressive America sees their interests in civil wars and disastrous expansion of terrorist activities and regional conflicts and, unfortunately, some regional countries help them," Ayatollah Khamenei stated.
The Leader of the Islamic Revolution singled out the U.S. and the Zionist regime of Israel, saying their goal is to prevent the rise of an Islamic power in the region.
"They know that the fascinating message of Islam is to defend the oppressed and the deprived, so they fear the formation of a power based on Islam."
The Leader described developments in Syria, Iraq and Lebanon as examples that reveal the failure of U.S. conspiracies in the region and said they are signs of God's power and the realization of God's promises.
"The world's political and intelligent analysts are astonished and acknowledge the fact that Iran, by relying on God and counting on national power, has defeated the global powers in the region."
The Leader also called the Iranian nation a flag-bearer of freedom and justice in the world.
He also warned the youth about "the enemy's desperate efforts to tempt and influence" them in the cyberspace as well as their public and private lives.
"The enemy is very active in various fields, which calls for vigilance, unity and reliance on God to withstand them," he added.
SP/PA