Iranian Artists Forum hosts tazieh performances
September 12, 2018 - 19:26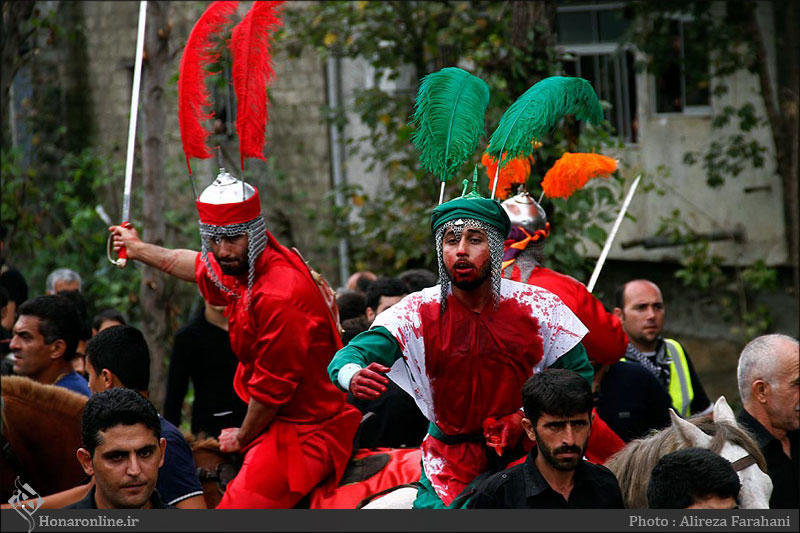 TEHRAN – A group from the Kahrobaye Tazieh Center is performing tazieh (Iranian passion play) in the courtyard of the Iranian Artists Forum.
Stories from the uprising of Imam Hussein (AS) and his companions against the oppressive Umayyad dynasty in 680 CE has been selected to be staged during the performances, which began on Tuesday and will run for ten nights.
Majid Khosroabadi is the director of the tazieh troupe, which includes Mirza Abolfazl Monabbatkar, Yahya Golverdi, Abolfazl Golverdi, Hossein Golverdi, Mehdi Bakhshi, Kazem Jaddehkhah, Mehdi Sayyadi, Javad Paknejad, Esmaeil Ali-Esalm and Ahmad Moqaddasi.
Tazieh was registered on UNESCO's List of the Intangible Cultural Heritage of Humanity in November 2010.
Photo: A group performs a tazieh (Iranian passion play) about Imam Hussein (AS) in the northern Iranian town of Ziabar on November 20, 2016 to commemorate Arbaeen, which marks the end of the 40-day mourning period following the martyrdom of the Imam and his loyal companions on Ashura. (Honaronline/Alireza Farahani)
MMS/YAW