Diplomat: JCPOA to die if others bow to U.S. pressure
September 14, 2018 - 21:11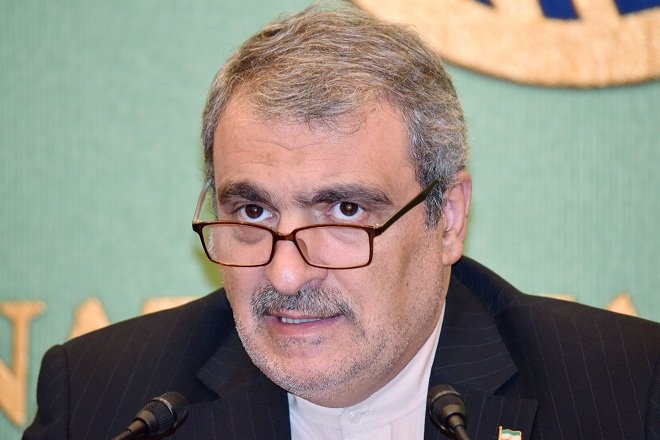 TEHRAN – The new Iranian ambassador to Japan said on Wednesday that the 2015 nuclear deal will die if other countries bow to U.S. pressure, urging Japan, China, Russia and the European Union to take essential steps to save the deal, officially referred to as the Joint Comprehensive Plan of Action (JCPOA).
While expressing his gratitude for Japan's consistent support for the JCPOA, Morteza Rahmani-Movahed, who assumed the post in July, told a press conference at the Japan National Press Club that he hopes the Japanese government will protect companies and banks to dispel their worries about trade with Iran, The Daily Manila Shimbun reported.
Rahmani-Movahed further urged the Japanese government to take measures to maintain bilateral trade amid mounting U.S. pressure on Tehran.
Following the U.S. withdrawal from the JCPOA and the reimposition of sanctions against Iran, Japanese companies and commercial banks suspended business with Iran, for fear of U.S. sanctions.
According to the 2015 nuclear deal - signed between Iran, the European Union, the EU trio (German, France, Britain) the U.S., Russia and China – Tehran agreed to put limits on its nuclear activities in exchange for termination of economic and financial sanctions.
The ambassador said the suspension of bank transactions has, in particular, caused a crisis to businesses such as drugs and medical services
The Iranian government hopes to provide support for Japanese importers such as insurance related to crude oil shipments and financial settlements if they hope to continue importing from Iran, he said.
Iran expects the Japanese government to make efforts and provide reassurances for expansion of economic relations by supporting Japanese firms, he added,
He also criticized the administration of U.S. President Donald Trump for its unilateral withdrawal from the nuclear deal in May, saying that the U.S. government cannot be trusted.
Today, he said, the United States and the supporters of its withdrawal from the JCPOA, including the Zionist regime, must be punished.
Rahmani-Movahed, stressed that even after the pullout, Iran keeps implementing the deal.
MH/PA