Iran says studying opening of EU office in Tehran
October 15, 2018 - 22:15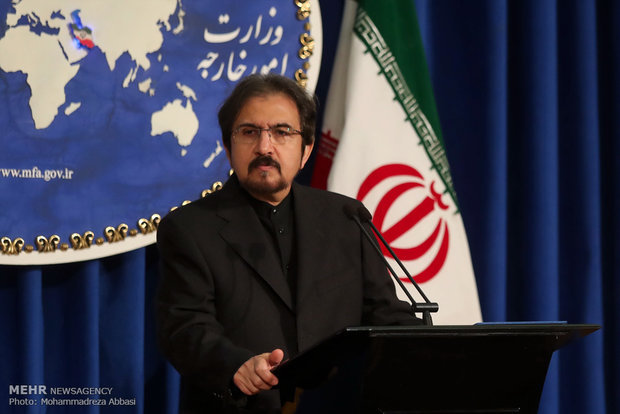 TEHRAN – Foreign Ministry spokesman Bahram Qassemi has said Iran is considering the opening of a European Union office in Tehran and that both sides are weighing the conditions and possibilities on the matter.
"The issue was raised before by the European Union, but we're still weighing the issue and we will announce our decision after examining the issue thoroughly," Qassemi said at a press conference in Tehran on Monday.
Asked about efforts by the three European signatories to the nuclear agreement to salvage the deal through a mechanism, Qassemi said great efforts have been made in this regard and "we hope to receive this mechanism soon."
"In fact, in addition to the three European countries, China and Russia also have responsibility in this regard. So they have also been present in talks about this issue," he stated.
The spokesman added that Iran's relations with China and Russia goes beyond the JCPOA-related talks and that Tehran is willing to strengthen ties with the two countries.
On the case of the Iranian diplomat who was arrested months ago on suspicion of plotting a bomb attack on a meeting of Mujahedin Khalq Organization (MKO) in Paris, Qassemi said, "We firmly believe the diplomat is innocent and has fallen victim to a plot orchestrated by a terrorist group which aims to hurt Iran's relations with European countries."
He further said the European countries would sooner or later come to the same conclusion. "Nevertheless, we would spare no efforts to prove that he is innocent through legal channels."
Iran receives 'written note' about U.S. exit from Treaty of Amity
Qassemi also confirmed the receipt by Iran of a "written note" about America's withdrawal from the "Treaty of Amity," signed between the two countries in 1955.
The U.S. announced it would pull out of the treaty after it was handed a defeat at the International Court of Justice (ICJ) in a case filed by Iran that had invoked the treaty.
Iran has filed another lawsuit against the U.S. at the same court but over a different matter. The Islamic Republic has invoked that same treaty in its new complaint.
Qassemi said that despite a declaration of withdrawal, the pullout from the "Treaty of Amity" would take at least a year to take effect.
MH/PA