Trump administration poised to cave on Iran sanctions
November 2, 2018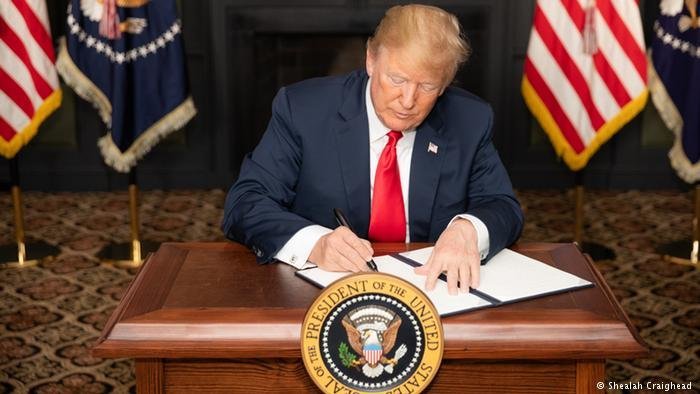 The Trump administration is poised to offer a series of major concessions to Iran that will let it escape key economic sanctions that the administration once vowed would kick back into force in the next several days, according to multiple U.S. officials and administration insiders familiar with the state of play.
Senior State Department officials working on the Iran issue are said to have convinced Secretary of State Mike Pompeo to permit Iran to remain connected to the international banking system, providing a key lifeline to Tehran.
While President Donald Trump vowed to enforce a bevy of new sanctions, senior officials in both the State and Treasury Departments caved to pressure from European allies and Iran, officials confirmed to the Washington Free Beacon.
Iran is now set to continue doing business on the international banking system known as SWIFT, sources said. Additionally, the Trump administration will grant waivers to several countries allowing them to continue purchasing Iranian oil, another concession that the administration once said would not take place.
These concessions, pushed by European allies seeking to keep doing business with Iran as the United States readies new sanctions on Nov. 4, have sparked outrage among Iran hawks on Capitol Hill and among some within the administration who have been pushing for a hardline on Iran.
The sanctions rollout is expected to take place early Friday, though the White House National Security Council leader John Bolton has declined to participate, as previously scheduled, sources confirmed. The cancelation is driving further speculation about unhappiness over the concessions to Iran.
The Free Beacon first reported last week that the administration was considering allowing Iran to remain connected to SWIFT. Since that time, senior State Department officials are said to have convinced Pompeo—a vocal and longtime Iran hawk—to go along with this plan, sparking further frustration among those advocating sanctions go fully into effect.
"They're gutting President Trump's maximum pressure campaign," according to one senior congressional staffer briefed by administration officials on Iran and SWIFT.
"Administration officials used to tell us it's OK to give Iran concessions on SWIFT because they would force oil exports down to zero," the source said. "Now they're saying it's OK to give concessions on both SWIFT and energy, because this is just the beginning of a long campaign. It's a surrender dressed up in Obama-era talking points, except Obama officials used to do it better. Congress isn't fooled."
Sources further confirmed that a series of briefings will be held in the next days disclosing these new concessions.
(Source: The Washington Free Beacon)