Rouhani warns that boycotting Iran undermines Tehran's ability to fight drugs and terrorism
Rouhani: Sanctions clear 'example of economic' terrorism
December 8, 2018 - 20:44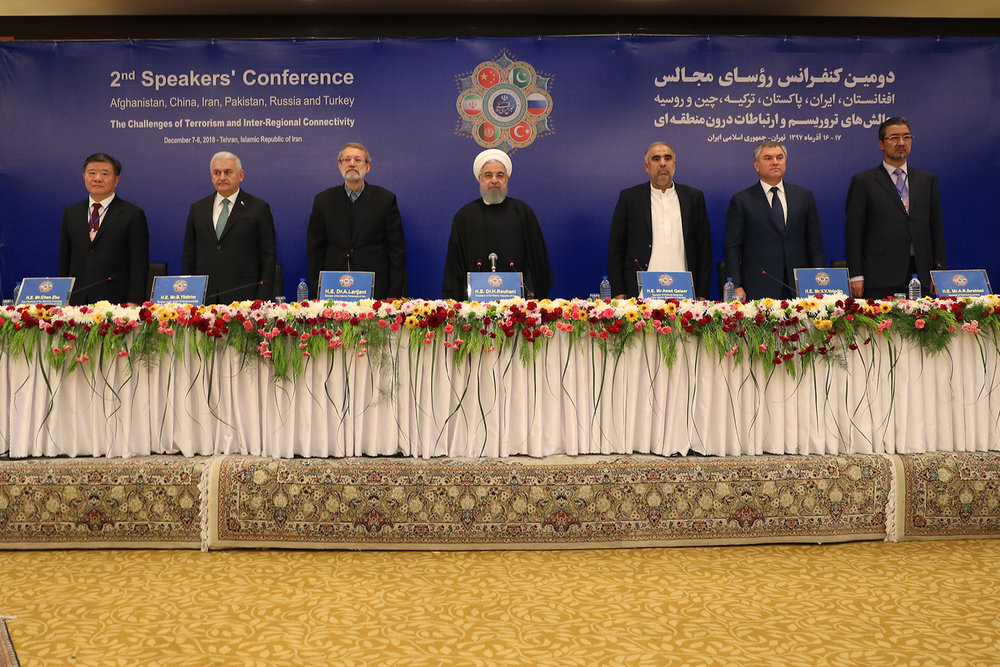 TEHRAN – Iranian President Hassan Rouhani said on Saturday that the U.S. withdrawal from the 2015 nuclear deal and reimposition of sanctions against Iran are clear examples of "economic terrorism".
"Economic terrorism means causing fear about economy of a country and preventing others from doing business with and investing in the target country," he said during a speech at a conference of parliament speakers from Afghanistan, China, Iran, Pakistan, Russia and Turkey named "The Challenges of Terrorism and Inter-Regional Connectivity".
Rouhani also said, "We do not expect Westerners to pay their share for the security and stability that we have provided to them, but they must know that boycotting Iran undermines our ability to fight drugs and terrorism."
"I warn all those boycotters that if our abilities in fighting drugs and terrorism in their origins is undermined, you will not be able to survive the debris of drugs, refugees and bombs and assassination," the president pointed out.
Following is an excerpt of his speech published by the president.ir:
Today, security has more dimensions than the past. It includes areas such as economy, culture, politics, society and psychological domains, undermining of each can be described as terrorism.
Our region is at a critical juncture in history today. The juncture at which global terrorist, extremists and lawbreakers are seeking to start a whirlpool made of terrorism, poverty, sanction, crisis, assassination and coup, from Pakistan to Iran, from Afghanistan to Russia and from China to Turkey. They do not want us to gather, talk, sit together and be sympathetic and empathetic; but they need to know that we are determined to join hands in overcoming this common enemy; but what this victory requires is that we should all have a responsibility in drying out the roots of violence.
Our success requires continuous and tireless resolve in finding the roots of degeneration and collective effort for drying out these roots. Poverty, corruption and inequality are among the most important root causes of terrorist violence in this region.
We need to think about how we can stop those who are willingly spending billions of dollars of oil incomes for deepening discords and proliferating intolerance; we need to stand up to those who interfere and bully to leave terror and assassination unsupported.
Today, it is coordination and cooperation that create security. To confront the common threats that do not recognize any boundary and territory, we need to take a new approach towards boundary and territory. We need to have more flexible governances that are more compatible with fair division of labor against our common threats.
We are subject to a full-scale assault that not only poses a threat to our identity and independence, but also is determined to break our long-standing bonds.
The country that has started a trade war with China, uses sarcastic tones with Pakistan, humiliates Afghanistan, punishes Turkey, threatens Russia and imposes sanctions against Iran, is the prime suspect for breaking the bonds. If the U.S. thinks that it can break us apart, it is gravely mistaken.
When they put China's trade under pressure, we all suffer losses; when the use sarcastic tones against Pakistan, we all take that insult serious; humiliation of Afghanistan means belittling us all; when Turkey is punished, we are all being punished; whenever they threaten Russia, we all see our security threatened; when the boycott Iran, they deprive all of us of the advantages of international trade, energy security and sustainable development, which means that they have boycotted everyone.