Tehran hosting high-level meeting on disaster information management 
December 18, 2018 - 21:2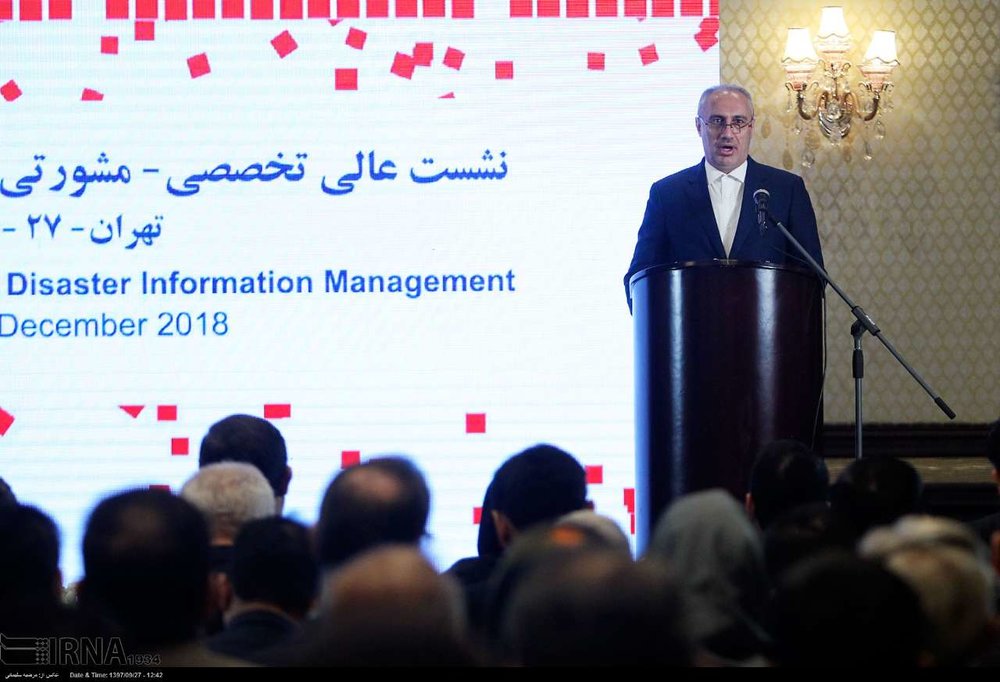 TEHRAN — A high-level expert consultation meeting on disaster information management kicked off in Tehran on Tuesday, Mehr news agency reported. 
As a regional institution of the United Nations Economic and Social Commission for Asia and the Pacific (ESCAP), the Asian and Pacific Centre for the Development of Disaster Information Management (APDIM) has organized the 2-day event.
APDIM is mandated to work with ESCAP members and associate members and other relevant stakeholders to reduce the risks, damage and losses resulting from disasters by developing human and institutional capacities of countries and organizations of the region in disaster information management and strengthening regional cooperation in this field.
According to the UNESCAP website the consultative meeting will discuss strategies, approaches and mechanisms in developing information management for disaster risk reduction, including for combatting sand and dust storms, and for monitoring the progress in achieving the targets of the Sendai Framework and disaster related targets of the Sustainable Development Goals.
APDIM to open Tehran office
The office of APDIM is scheduled to officially open in Tehran on December 19, United Nations Informations Center reported.
High level officials form the Government of the Islamic Republic of Iran and ESCAP as well as state members of APDIM Governing Council and a number of delegates from Asian and Pacific countries are also scheduled to attend the ceremony for the opening of the Centre.
In accordance with the ESCAP resolution 71/11 adopted in 2015, APDIM is established in the Islamic Republic of Iran with the aim of reducing the risk and negative impact of disasters in Asia and the Pacific by enhancing capacities of the countries and organizations of the region in disaster information management.
With the close cooperation and generous contributions of the Islamic Republic of Iran, the process for the establishment of APDIM has been finalized in 2018 and the Centre is ready to provide its services to the countries of the region. The opening of the Centre will be followed by the third session of the Governing Council of APDIM in the Centre's premises on 19 December.
'Establishment of APDIM office in Iran a landmark'
In his opening speech at the consultative meeting Hamid Pourmohammadi, Chairman of APDIM's Governing Council and Deputy Vice President at Budget and Planning Organization, explained that the establishment of APDIM office in Iran is a significant landmark.
The opening of APDIM office in Tehran can be a starting point for south-south cooperation in international sphere, Pourmohammadi said.
"By using ESCAP members' experience, I hope that we can run APDIM office vigorously and do our best in planning strategic plans," he highlighted.
Asia Pacific region is the most disaster prone area worldwide, he said, adding that natural disasters would both carry enormous economic burden and are a serious threat for achieving sustainable development goals.
Disaster information management critical in disaster risk reduction, resilience building
UN resident coordinator and UNDP representative Ugochi Daniels, for her part, also said that disaster information management is critical in all aspects and areas of disaster risk reduction and resilience building.
"Holding the "High-Level Expert Consultation Meeting on Disaster Information Management" this week in Tehran is a valuable opportunity to discuss ways and means for expanding and enhancing regional cooperation in this regard.
"Despite important achievements in developing risk reduction and resilience building capacities by many countries of the region, various disasters such as floods, cyclones, earthquakes, and sand and dust storms continue to cause loss and damage at local, national and regional level.
"Iran has gained valuable experiences and developed considerable knowledge on disaster risk reduction and management. Effective response to major disasters such as Bam and Kermanshah earthquakes in 2003 and 2017 and to many other disasters such as floods, draught and sand and dust storms are a testimony for Iran's capacity to respond to natural hazards and disasters.
"The establishment of APDIM with the generous support of the Government of Iran is a great achievement and an important step toward enhancing disaster risk reduction and resilience building in the region.
"Multilateralism is the only answer to the challenges we face today. We need a reformed, reinvigorated and strengthened multilateral system. In the end, multilateralism is nothing more than countries coming together, respecting one another, and establishing the forms of cooperation that guarantee peace and prosperity for all in a healthy planet.

"Such a commitment is needed now more than ever – from all around this hall, and around our world, and to make this a reality, the UN Country Team in Iran stands ready to support the Government of Iran and the international community and support all types of cooperation within the scope of APDIM's programmes as well as through other regional and multi-lateral cooperation mechanisms to reduce the risk and negative impact of disasters in the region," she concluded.
APDIM turns Iran into a hub for crisis management knowledge
Mostafa Mohaqeq, Regional Coordinator for West Asia and North Africa in the United Nations International Strategy for Disaster Reduction (UNISDR), also said that setting up APDIM office in Iran is a great opportunity for Iranian organizations to have access to the best data available in disaster reduction worldwide.
"Based on global reports having access to the disaster reduction knowledge is of great significance as we do not know much about the main reasons behind many devastating natural disasters and we also are not equipped with advanced technologies to fight such disasters," he explained.
APDIM would turn Iran into a hub for crisis management knowledge as many countries in the region will share their know-how on the disaster risk reduction in the center, Khabaronline quoted him as saying on Monday.
"APDIM's programs are focused around three service lines. Firstly, it will serve as a knowledge and information repository for all disaster related data in the region."
"Secondly, APDIM will lead on capacity development by developing knowledge management tools and facilities such as e-learning platforms for disaster risk resilience with specific training modules, and thirdly, APDIM will deliver information services on cross-border disasters to the countries and organizations of the region," he added.
Due to various reasons Iranian don't have access to modern technology and knowledge on international scale and have to take part in international seminars and congresses to do so, however, he highlighted that establishment of APDIM in Iran, as an international entity, would enable Iran to have access to all data available in this field.
APDIM will also strengthen regional cooperation, Mohaqeq said, stating that at the time of brutal sanctions imposed on Iran establishment of a regional office in the country is a great sign demonstrating that Iran has its way to garner international and regional cooperation.
MQ/MG