By staff and agency
Iran says Saudi coalition against Yemen had 'unwarranted illusion'
December 18, 2018 - 21:37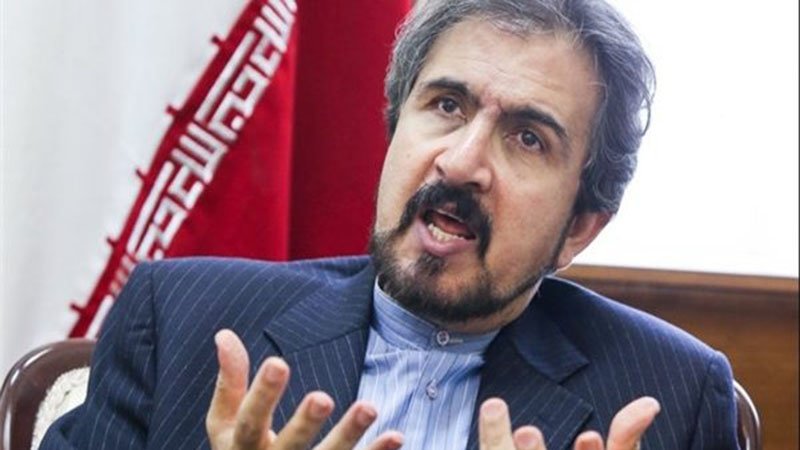 Iranian Foreign Ministry spokesman Bahram Qassemi has said that the Saudi-led coalition against Yemen had a kind of 'unwarranted illusion'.
"I believe the Saudi-led coalition forces had a kind of unwarranted illusion and believed they would be able to achieve their goals through attacking Yemen. They had a big strategic mistake in mind; so, they launched their operation and had no proper understanding of the realities behind the occupation of Yemen as well as the aggression against the country and Yemen's history," he told Arabic language network Al Alam in an interview aired on Monday.
He added, "Their behavior showed they were not well aware of the contemporary and past history, and they easily launched their aggression."
"It was clear to us that a military solution would be a nonstarter in Yemen, and no matter how much time would elapse, Saudi Arabia and the United Arab Emirates as well as other forces providing arms support and contributing to the creation of large arsenals would face defeat at the end of the day," he said.
Qassemi described the humanitarian situation in Yemen as a "crisis and disaster of the current century".
"Such circumstances brought about a situation not only for Saudi Arabia, but also for its supporters, where they felt it was not the right time to sustain the situation. Hence, even ostensibly, they needed to put on a new mask and paint a fresh image of themselves to pretend that even they themselves did not approve of the situation. If the situation continued, it could undermine the credibility of U.S. rulers and lead to more scandals for the White House," he remarked.
Elsewhere, he said nations which are willing to resist aggression and occupation are able to achieve victory and upgrade their status, at last.
Ansarullah and Yemeni people are a clear example of this, he added.
"By putting up a stiff resistance against Saudi Arabia and the United Arab Emirates and )other) occupying forces, Ansarullah managed to present itself as an equal party to the peace talks held in the Swedish capital, Stockholm, and to attend the negotiations as the representative of Yemeni people," Qassemi explained.
UN-brokered peace talks between the warring parties in Yemen's conflict began on December 6 and ended on December 13 in Sweden.
UN Secretary General Antonio Guterres said on Thursday that the Yemeni parties had reached an agreement on a ceasefire in the Red Sea port city of Hudaydah, bringing the first round of the Sweden talks to a close.
Qassemi said, "Hudaydah and its port enjoy a strategic situation, and that's why the occupiers tried a lot and allocated so much funds in recent months to fully occupy this city and its port, but to no avail. It was due to the importance of this region that it was necessary during the first round of negotiations to announce a clear solution and approach, so that the issue might be followed up in the following consultative meeting slated to be held in Kuwait in January."