Iran, Germany to enhance agricultural development co-op
January 23, 2019 - 21:37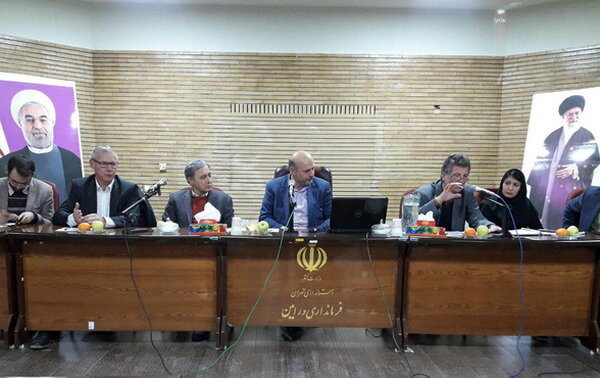 TEHRAN – A project on sustainable development of agriculture in Varamin county, southeast of Tehran, is piloted in a collaborative initiative between Sharif University of Technology and University of Stuttgart.
The governor of Varamin, Hossein Kaghazloo, and representatives from Sharif University and a research team from University of Stuttgart met on Monday to discuss the fields of cooperation and details of the pilot project, ISNA reported.
"A large part of Varamin's population depends on agriculture, so co-running environmental projects in cooperation with research institutes can play a significant role in development of the area," Kaghazloo stated.
Water scarcity as a barrier to agricultural development in the region, can be removed by exploitation of modern technologies, as well as waste water treatment and cultivating in greenhouses instead of open fields, he added.
He went on to explain that one of the effective measures for developing Varamin county is constructing a greenhouse town, in which more than 100 hectares of advanced greenhouses is set up to curb agricultural water consumption, in addition to creating sustainable job opportunities including organic agriculture and fish farming.
Water shortages resulting in dryness of the important wetlands of the region including Band-Ali Khan wetland along with land subsidence have posed a serious threat to Varamin plain, he regretted, adding, scientific researches and projects on agricultural development can certainly reduce pumping water excessively out of the ground, and prevent the land subsidence phenomenon.
According to the report German research group will pursue sustainable energy management, which is being piloted in Varamin county due to its special capacity in renewable energy development.
The project will be implemented during the next three years through using human resources and renewable energy in the region, additionally, social and economic activities are among the objectives, including offering training courses for the students at schools in order to accelerate the city's development process through public awareness and participation.
In September 2018, Mohammad Javad Bolourchi, geologist and the former spokesman for the Geological Survey and Mineral Explorations of Iran, said that in the Iranian calendar year of 1384 (March 2005-March 2006), the subsidence rate in Varamin county has been measured 12 centimeters.
It is likely that subsidence rate of Varamin plain would exceed Tehran plain, due to industries and urban areas have replaced agricultural lands in Tehran, while the aquifers in Varamin county are no longer capable of supplying agricultural water as they are severely depleted, he explained.
Head of water affairs of Varamin county Ahad Davoudi also said in September 2018 that there were 1,032 illegal and 7,170 legal wells in the region which pump some 124 million cubic meters annually, and only 70 illegal wells were closed down for good.
Land subsidence, a gradual settling or sudden sinking of the Earth's surface due to subsurface movement of earth materials is mainly caused by aquifer-system compaction, drainage and decomposition of organic soils, underground mining, oil and gas extraction, hydro compaction, natural compaction, sinkholes, and thawing permafrost.
FB/MQ/MG