Rouhani pushes for better intl. banking ties
Rouhani to opponents: 'Let the government do its job'
February 26, 2019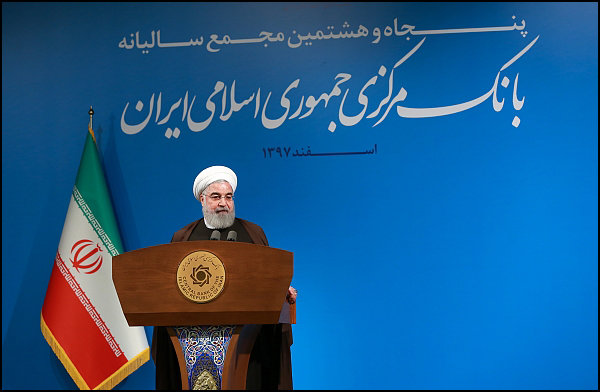 TEHRAN – President Hassan Rouhani has asked his political opponents to "let his administration do its job" and avoid building walls around the government, because "it won't benefit the people."
"If some want to build walls around the country, it would make things harder for the government… We ask everyone, no matter their political party or faction, not to build walls around the government because this wouldn't be to the benefit of the people," Rouhani said in remarks on Tuesday.
He argued for better relations with the world, especially in banking section, saying, "If we break off our relationship with the Financial Action Task Force (FATF), our banking activities in the world would face problems."
The president criticized those questioning the wisdom of joining the FATF. "All world countries have joined the financial task force, does this mean none of them has any wisdom or tact?"
According to Rouhani, the government, parliament and the Leader of the Islamic Revolution Ayatollah Khamenei are the decision makers in such issues.
"The Leader have told me several times that he is not against the quadripartite bills. Also, the government itself has offered the bills and the parliament has approved them," he said, asking, "Then who is opposing?"
He then encouraged those who are on his side of the argument to speak up. "To the same extent that I'm speaking up, if you believe in these words, you should speak up and do interviews as well."
Rouhani warns against self-sanctioning
There is a type of sanction which the U.S. has created for Iran and there is also another one which "our taste has created", the president remarked.
"If we do not impose sanctions on ourselves and have self-respect and know that the owners of the country are the people, then we would pass through this situation," he argued.
Elsewhere in his remarks, Rouhani said his administration has clinched three major legal victories against the United States, adding, "We are successful in political matters as well as in the international stage."
He highlighted the success of the Islamic Republic in its regional policies, for which he credited the Islamic Revolution Guard Corps (IRGC), the Foreign Ministry and the Economy Ministry.
Pointing to Syrian President Bashar al Assad's Monday visit to Tehran, Rouhani said his Syrian counterpart came to Tehran to thank the Leader, the Iranian nation and the Foreign Ministry.
"He explicitly said he is grateful to the Foreign Ministry for the great things it does in the region today," Rouhani explained.
MH/PA