Iran, Switzerland ink MOU to enhance agricultural co-op
March 3, 2019 - 20:15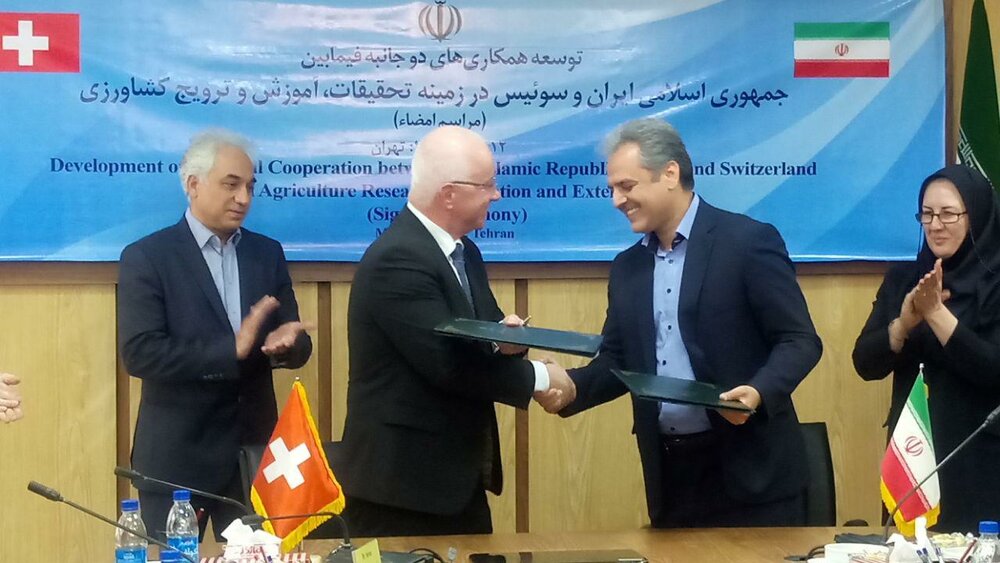 TEHRAN - Iran and Switzerland signed a memorandum of understanding (MOU) on Sunday for mutual cooperation in agricultural research, education and extension, IRIB reported.
The MOU was signed by Head of Iran's Agricultural Research, Education and Extension Organization (AREEO) Kazem Khavazi and Swiss Director of the Federal Office for Agriculture (FOAG) Bernard Lehmann.
Under this MOU, Iran and Switzerland will develop agricultural cooperation in the areas of research and technology, education, extension, preservation of genetic resources, monitoring of agricultural inputs and the production of vaccines and pesticides.
Speaking in the signing ceremony, Khavazi mentioned Switzerland's advanced technology and knowledge in agricultural science, saying "Switzerland is one of the leading countries in the field of agricultural sciences and has great experience in conservation and improvement of plant species, and we plan to use their experience in this fields."
"The Swiss side is also keen to benefit from Iranian research and scientific institutes experiences in some areas." He added.
According to the official, Iranian agriculture sector has a great network of research institutions in which many scholars in various fields of agriculture science and biotechnology are conducting research and developing new methods.
"This knowledge can be provided to developed countries in order to exchange experience." Khavazi said.
In the past forty years, Iran has witnessed a remarkable improvement in the agriculture industry and billions of dollars' worth of development, research and educational projects have been implemented across the country.
The country has inked several agreements with European countries for cooperation in the agricultural sector among which Germany, Finland, Serbia, the Netherlands, Turkey, Latvia and Croatia can be mentioned.
EF/MA