EU on the warpath with China, calls Beijing 'systemic rival'
March 13, 2019 - 21:52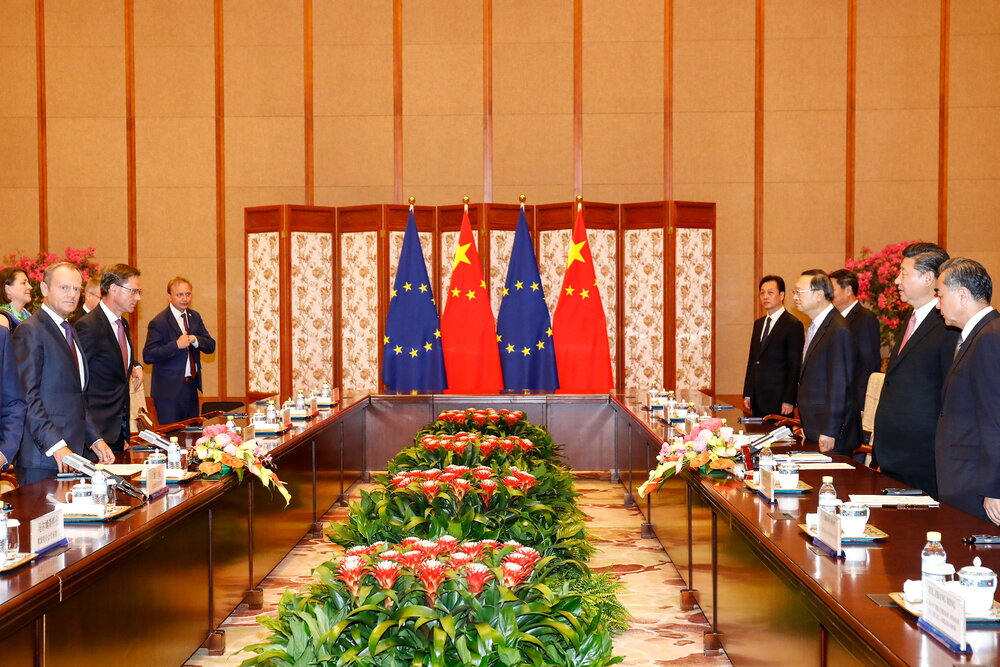 TEHRAN - The rivalry between China and the U.S. is legendary so is the confrontation between the U.S. and European Union. Now, the common enemies of the U.S. – China and EU – are on the warpath.
The tensions have escalated over the past few weeks, apparently under U.S. pressure, with European Union now openly coming out against the Asian bulwark.
On Tuesday, for the first time, European Union slammed Beijing as a "systemic rival" and issued a strategic communication listing 10 proposals for dealing with China.
European Union also launched a tirade against Italy for aligning closely with China's ambitious One Belt, One Road project, which seeks to promote Chinese trade from Asia into Europe.
In a sharply-worded statement, the EU called China "an economic competitor in pursuit of technological leadership and systemic rival promoting alternative models of governance."
The EU strategy proposes 10 "concrete actions" concerning China, which are supposed to be discussed and endorsed by EU leaders at upcoming meeting on March 21-22.
The last EU-China strategy, adopted three years ago, had stopped short of criticising China's trade practice, such as strategic takeovers of European companies as part of the Made in China 2025 strategy.
But, this time, European Union has adopted a more aggressive stance against China, purportedly provoked by the United States, which fears China's growing influence in Europe.
Beijing's growing power in Europe has been more apparent with Italy showing its inclination to become the first G7 country to join the One Belt, One Road project.
"There is a growing appreciation in Europe that the balance of challenges and opportunities presented by China has shifted. In the last decade, China's economic power and political influence have grown with unprecedented scale and speed, reflecting its ambitions to become a leading global power," the EU communication said.
European Commission vice president Jyrki Katainen said China is a strategic partner of the European Union and both pursue strong bilateral and multilateral cooperation on issues of mutual interest.
"With this Communication we make concrete proposals on how the EU can act to strengthen its competitiveness, ensure more reciprocity and level playing field, and protect its market economy from possible distortions," the official said.
According to analysts, EU's strategy basically seeks to limit China's involvement in Europe and it is fiercely opposed to European Union members becoming part of China's grand economic project.
The Chinese mission to the EU has said that it would respond to the EU communication on Wednesday.
Earlier, China's foreign minister Wang Yi had urged Europe to stay "independent" in its dealings with China and called for strong ties in the face of increased U.S. pressure.
Wang's comments on Friday was in response to backlash over reports that Italy was planning to join Beijing's Belt and Road Initiative and a push for a more unified EU approach when dealing with China.
"We believe that as one of the major forces in the world, Europe will proceed from its own fundamental and long-term interests. [Europe] will surely maintain independence, stability and enthusiasm in its China's policy," he told a press conference in Beijing.
China and U.S. have been embroiled in a bitter trade war with Trump administration announcing high tariffs on Chinese goods and Beijing refusing to budge.