Zarif meets grand ayatollahs in Qom
March 18, 2019 - 21:26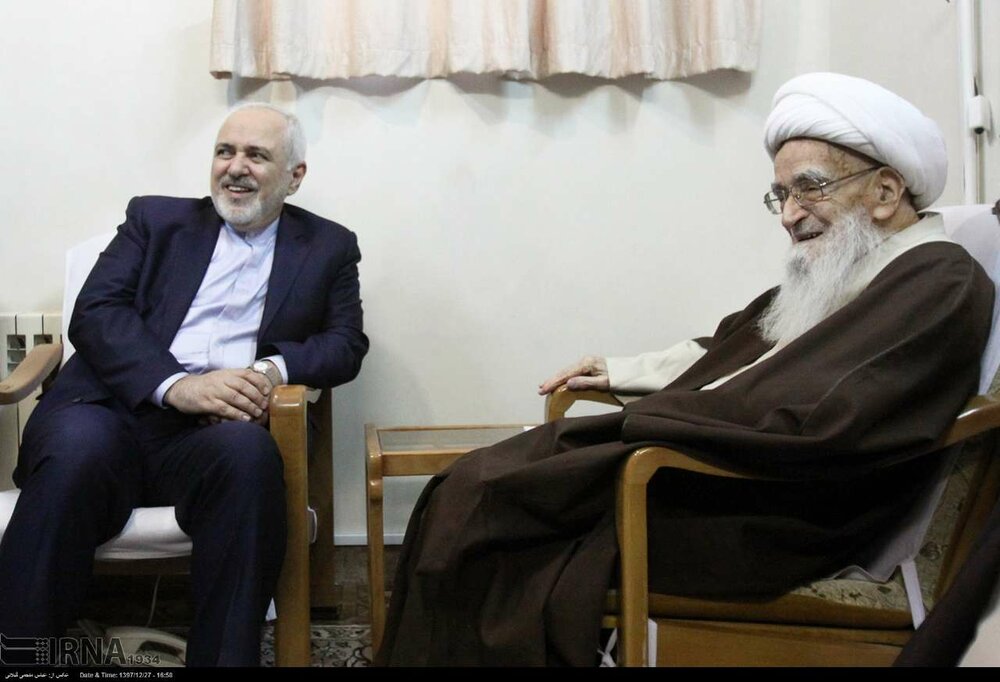 TEHRAN – Foreign Minister Mohammad Javad Zarif visited Qom on Monday and held meetings with grand ayatollahs.
According to the IRIB, Zarif's visit intended to elaborate on President Hassan Rouhani's visit to Iraq.
He met Lotfollah Safi Golpaygani, Hossein Vahid Khorasani, Hossein Noori Hamedani, Abdollah Javadi-Amoli, Naser Makarem Shirazi, Mousa Shubairi Zanjani, Mohammad Alavi Gorgani and also Ayatollah Seyyed Javad Shahrestani, representative of the Iraqi religious leader Ayatollah Ali Sistani.
During the meeting with Zarif, Grand Ayatollah Golpaygani said that Iran can be a "messenger of peace and kindness". He also attached great importance to visits to regional countries.
Grand Ayatollah Noori Hamedani attached great importance to unity as the most important principle in the Islamic system.
"Enemy will not be able to cause harm as long as the officials show unity and solidarity," he said.
Grand Ayatollah Shahrestani described Rouhani's visit to Iraq as a new chapter in bilateral relations.
During Rouhani's visit to Iraq on March 11-13, five memorandums of understanding (MOUs), including an agreement on building a cross-border railway, and one on easing travel conditions, and 22 agreements in various areas of trade and industry cooperation were signed.
The visit was hailed for sending a strong message to the U.S. and its regional allies that Iran still enjoys support in Iraq in spite of the sanctions.
'We trust no one'
Speaking at the Qom administrative council, Zarif said there is no room for trust at the international arena and Iran does not trust anyone.
"We believe that we can negotiate with everyone due to the power we have. Negotiation is different from trust. We trust no one and do not advise our friends to trust, especially on those who have animosity towards Iran for more than 40 years and supported Saddam (the former Iraqi dictator)," he said.
NA/PA