By Hanif Ghafari 
Biden worries about rising Sanders' votes
April 12, 2019 - 12:44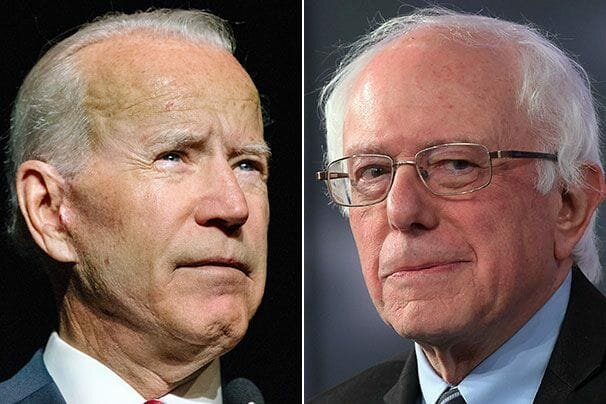 Former Vice President Joe Biden has not yet made his final decision to run for the presidency of the year 2020. However, polls among Democrat supporters suggest Biden has a good relationship with other party candidates. Biden's main concern, however, is for Barney Sanders. One that could prevent Biden from attending the final presidential election.
As" The Hill" reported, Democrats are most confident that former Vice President Joe Biden and Sen. Bernie Sanders can defeat President Trump in a general election, according to a new Hill-HarrisX poll. In the survey, 75 percent of Democratic respondents said that they believed that Biden had a strong or some chance of beating Trump in the general election next year, while 64 percent said the same of Sanders. None of the other potential and declared Democratic candidates were rated by more than half of the party's voters as having at least some chance of defeating Trump.
Forty-five percent of Democrats in the survey said that they believed former Rep. Beto O'Rourke (D-Texas) had at least some chance of defeating the president, while 43 percent said the same about Sen. Kamala Harris. Forty-two percent of Democrats said that Sen. Elizabeth Warren (D-Mass.) had at least some chance of victory, while only 36 percent said they believed Sen. Cory Booker (D-N.J.) had at least some chance of beating Trump, and just 25 percent said the same about Sen. Amy Klobuchar (D-Minn.). Seventeen percent said they believed entrepreneur Andrew Yang had at least some chance.
The analysis of the results of the polls about the upcoming US presidential election is not so difficult. Biden, who is expected to soon enter the Democratic race, and Sanders have routinely polled at the top of surveys of Democratic voters. The Hill-HarrisX survey suggests Dems desperate to eject Trump from the White House may be gravitating to the two men because they see them as having the best chances to defeat Trump, according to Sophia Tesfaye, the deputy politics editor at Salon.com."This time around, especially after 2016 for Democrats, the biggest driver for popularity is can you beat Donald Trump," she said Tuesday on "What America's Thinking."
Despite this, Biden is still afraid of Barney Sanders' presence in the Democratic Party. The former vice president of the United States is well aware that if Sanders wins in the first states where the Democratic primaries are held, then there will be no difficulty in ultimate victory. Meanwhile, polls in countries such as Iowa, New Hampshire, and South Carolina are close to each other.