Fajr festival to screen rare rushes of "The Cow"
April 13, 2019 - 18:21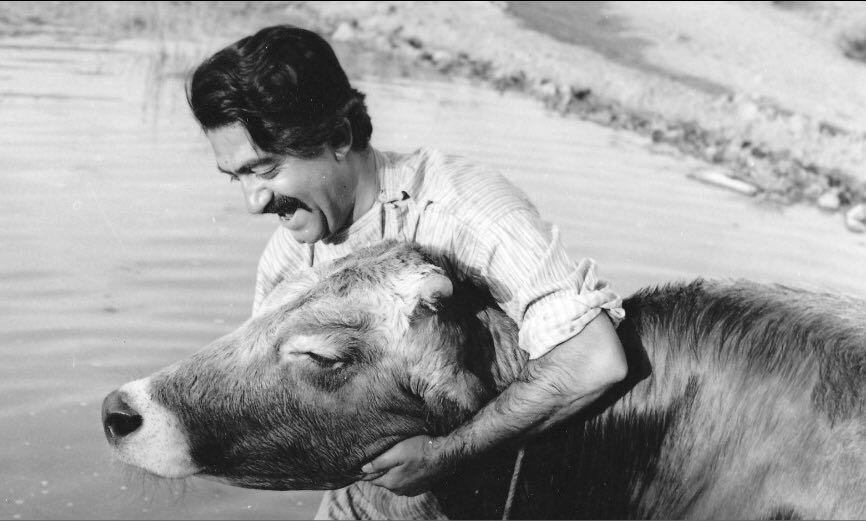 TEHRAN – A selection of newly-discovered daily rushes of Dariush Mehrjui's 1969 cult film "The Cow" will be screened at the 37th Fajr International Film Festival, the organizers announced on Saturday.
"The Cow", which is a forerunner of the Iranian New Wave cinema, turns fifty this year and the organizers have arranged a special screening session for the film.
"The film is due to have a special screening at the festival, so we decided to study all the negatives of the film," National Film Archive of Iran director Ladan Taheri said in a press release published by the organizers on Saturday.
"But while we were searching for the negatives, we discovered the daily rushes and several number of screen tests," she added.
"Part of the rushes show the actors in their casual clothes at the location of the film getting prepared for the screen tests," she noted.
"Several other screen tests have been carried out in the courtyard of the then art and culture office," she added.
"The rushes are of high importance since they bear the screen tests of legendary actors Ezzatollah Entezami, Jamshid Mashayekhi and Jafar Vaali who are not among us any longer," she added.
According to Taheri, the entirety of the rushes last 30 minutes and is considered a treasure trove for the cinema of Iran.
Starring Ezzatollah Entezami, Ali Nasirian and Jamshid Mashayekhi, the film is about Masht Hassan, who owns the only cow in a remote and desolate village.
While he is away, his cow, whom he treats as his own child, dies. Knowing the relationship between Masht Hassan and his cow, the villagers hastily dispose of the corpse, and when Masht Hassan returns, they tell him that his cow ran away. Devastated by the news, Masht Hassan starts to spend all his time in the barn eating hay and slowly begins to believe that he has become the cow.
Earlier in the 34th edition of Fajr festival, photos of "The Cow" went on display at an exhibition along with the 1978 French documentary on Iran "The Lovers' Wind".
Photo: A scene from "The Cow" by Dariush Mehrjui
RM/YAW