Epic flooding and poor response
April 13, 2019 - 20:41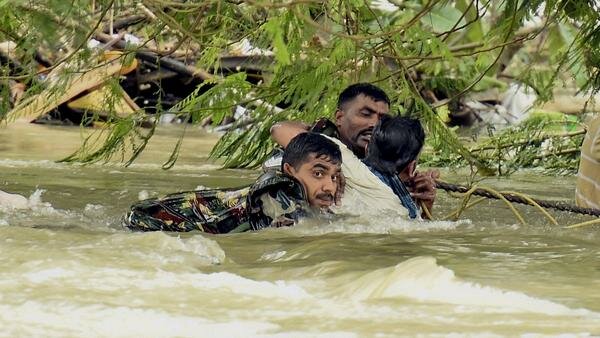 Sen. Josh Hawley, Republican of Missouri, said in a statement the Corps was "hamstrung" by "radical environmentalist lobbyists that are forcing the agency to prioritize wildlife over farmers."
To the Right, it's always someone else who's responsible for the catastrophic loss of property, livestock and livelihoods in the soaked Midwest. No one on the Right wants to subscribe that climate change is responsible. And part of the national infrastructure conversation — that we're not having, by the way — is that the Trump administration is more concerned about tax cuts for corporations and the wealthy.
When Barack Obama was president and wanted to invest in infrastructure, Paul Ryan, then-house Speaker (and John Boehner before him) complained about the cost. Ever wondered why McConnell, Boehner, and Ryan blocked the infrastructure legislation that President Obama wanted to pass?
The real reason is that they didn't want the president to have any victories. But now that their president is in the White House, they're content to kick this problem down the road to when a Democrat regains the presidency. Then it'll resume its place in the culture wars.
The farmers in the flooded areas voted for the hate. Like Donald Trump, they didn't believe in climate change. When Congressmen like James Inhofe and Cabinet members like Scott Pruitt deny climate change — like No. 45 — these farmers are getting exactly what they voted for: nothing.
FYI, caring people watch with sympathy and concern as the extreme flooding wreaks havoc on so many in the Midwest. But kneejerk "thoughts and prayers" are cheap responses. More frequent and more severe than usual weather disasters such as floods, tornados, hurricanes, and yes, even droughts, are the face of climate change. Affected regions should get used to it (also, in a global context, watch Iran for example, and by the way, their response to flooding could be a role model for this administration. Even IRGC is joining forces to prevent further damage to the cities in full force). Or, better, stop sending to Washington politicians who deny even the possibility of human-caused climate change, and are unwilling to take mitigating steps just in case they are wrong.
Ed Sullivan
(Source: newtondailynews.com)