By Syed Zafar Mehdi
Odds stacked against Modi in India elections
April 14, 2019 - 12:23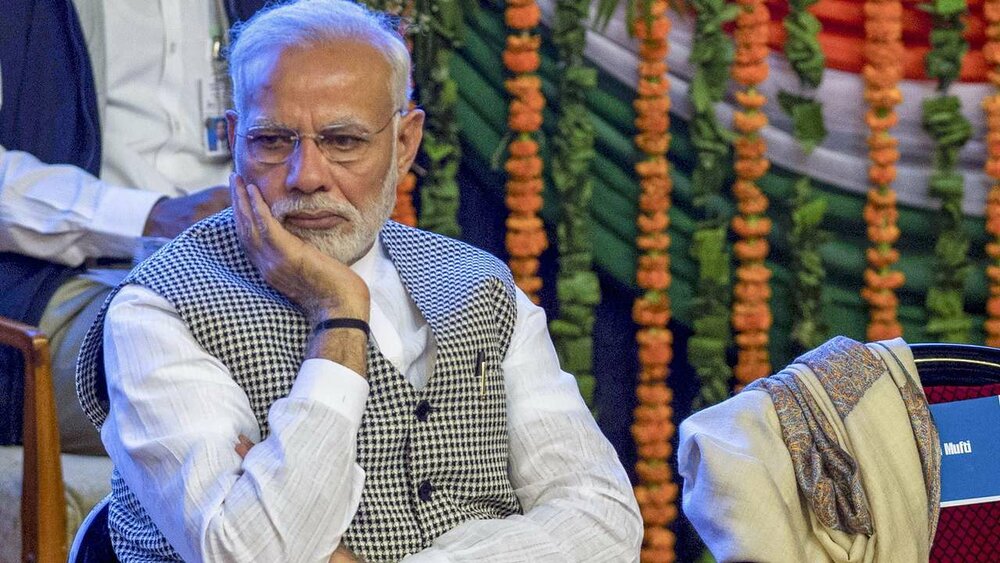 After the political razzmatazz of many weeks, general election is finally underway in India, ballyhooed as the 'largest democratic exercise in the world'. 
The voting began on Thursday in the first phase across 20 states and federal territories, in which 142 million voters were to decide the fate of 91 candidates.
There are total 543 seats up for grabs and six more phases to be held in coming weeks before the results are declared on May 23.
India's national election commission said the voter turnout in the first phase was more than 60 percent. Almost 900 million of India's humungous 1.3 billion people are qualified to cast their votes.
More than 11 million election officials, including security forces, have been reportedly deployed across one million polling stations to ensure free, fair and peaceful polls.
However, despite that, many incidents of violence and irregularities were reported on the voting day.
A supporter of a local political party in southern state of Andhra Pradesh died in a clash outside a polling booth on Thursday, said reports. In Kashmir, two youth were killed by security forces, which sparked tensions across the valley.
India has a parliamentary system of government where the lower house — Lok Sabha — comprises elected representatives. There are a total of 545 seats in Lok Sabha, and the party that claims the majority eventually forms the government. In case of hung parliament, coalitions are formed.
Bharatiya Janata Party (BJP) had claimed absolute majority in the last election (2014) and formed a government led by Hindu nationalist Narendra Modi, who is seen as a polarizing figure.
Elections in India are generally dominated by local issues but this time it is being seen as a referendum on Modi, who experts believe has failed to deliver on the promises he made five years ago.
Modi had promised to combat rampant corruption and resurrect the economy. He even pledged to create 10 million jobs for youth annually. But those promises turned out to be hogwash.
Unemployment grew to 7.2 percent in February this year, according to reports. And a leaked government report on unemployment said the numbers were the highest in last five decades, which came as a huge embarrassment to the Modi government.
Some of his policy decisions have come under blistering criticism. For example, in 2016, he introduced 'demonetization', calling it a remedy for corruption and claiming that the move would check the circulation of fake currency used to fund terrorist activities in India. But, it turned out to be a disaster and hurt many small businesses.
Farmers played a key role in Modi's landslide victory in 2014, as they were promised debt relief and other incentives to dissuade them from committing suicide. But, they have been left disappointed.
Modi also pledged to make India safe for women. But a Reuters poll last year found the country to be the "world's most dangerous place for women", ahead of Afghanistan and Syria.
While the odds are heavily against Modi in this election, he is banking on the loyal Hindu vote to retain power. During the campaigning, he animatedly appealed to nationalist Hindus to vote for his party.
"Nationalism is our inspiration and good governance is our mantra," he said at the launch of his party manifesto.
Under the BJP government, the religious minorities in India, especially Muslims, have felt increasingly insecure with many incidents of Muslims being lynched by angry Hindu mobs reported across the country. Some of the party leaders have openly made speeches asking Muslims to go to Pakistan.
Last week, BJP president Amit Shah made another controversial remark during election campaigning in West Bengal, saying if his party comes to power again, they will implement National Register of Citizens (NRC) in the entire country and "remove every single infiltrator except Buddhists, Hindus and Sikhs".
The remark, which suggested that Muslims and Christians have no place in BJP-ruled India, sparked widespread anger and outrage on social media, with people saying they will not vote for BJP.
Giving BJP a stiff challenge in this election is the Congress party that has traditionally been a powerhouse in Indian politics.
The party's newly-elected chief and the scion of Nehru-Gandhi family Rahul Gandhi showed signs of political maturity after he led his party to crucial wins in three key states in December last year.
His party's manifesto has promised to waive the outstanding loans of farmers, and promised to improve the fledgling economy. The highlight of Congress party manifesto is its minimum income guarantee, in which the poorest fifth of the country would get 6,000 rupees ($100) per month.
"Vote for Congress, vote for you," the party said on Twitter, promising more jobs and "love over hate", aiming a salvo at BJP.
Gandhi has promised a "final assault on poverty." He has also promised to increase the education budget, and promised to reserve 33 percent of government jobs for women.
He has reached out to powerful regional parties, setting aside ideological differences, to stitch together an alliance in a bid to prevent the Hindu nationalist BJP from coming back to power.
After the first phase, exit polls suggest that no party has a clear edge so far. BJP and Congress are main challengers, but powerful regional parties, especially in the northern state of Uttar Pradesh, hold the key in case none of these two parties claims a clear majority.