Army forces deployed in eastern borders to counter Daesh: general
April 15, 2019 - 21:41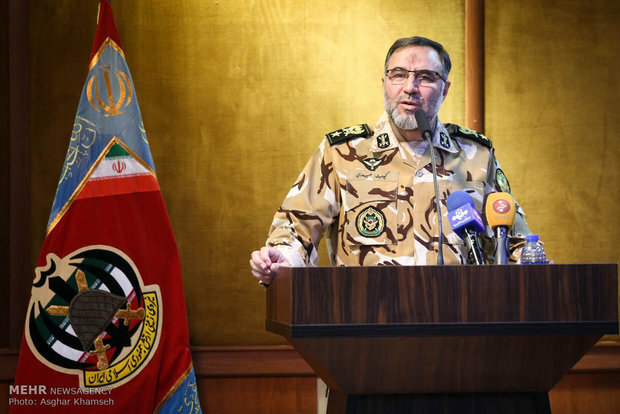 TEHRAN – Chief of the Iranian Army Ground Force said on Monday that his forces have been deployed to Iran's eastern borders because of Daesh (ISIL)'s movements in Afghanistan.
Given that the Americans have brought Daesh to Afghanistan and based on a decision made by the General Staff of the Armed Forces, the Army's ground forces were deployed in eastern borders, Brigadier General Kiumars Heidari said at a press conference.
He also said Iran is now self-sufficient in armored, anti-tank, artillery, drone and helicopter technologies, IRNA reported.
"This year, we will sign a contract with Defense Ministry to buy Karrar tanks," the commander said, adding that Karrar, a domestically-built tank, is among the strongest tanks in the world.
Heidari pointed out that the upcoming military parades to mark National Army Day will not be held in flood-stricken provinces of Golestan, Khouzestan and Lorestan.
"In other provinces we will hold parades, with the same strength shown in previous years, to tell the enemies that our forces are powerful and can carry out different missions simultaneously," he added.
General Heidari said in addition to the Ground Force, the Khatam al-Anbia Air Defense Base will also showcase its S-300 missile system, Sayyad 2, Sayyad 3, long and short-ranged radars and electronic warfare systems.
The Army Air Force will stage powerful parades on National Army Day with its homegrown aircraft such as Ra'd, Sa'egheh and Azarakhsh, he remarked, adding that it will also perform aerial refueling.
The commander went on to say that during the parades, the Army Aviation will put its helicopters on view and Navy forces are expected to hold parades in the Persian Gulf.
Asked to give an account of the recent changes in the Ground Force, Heidari said some changes were made in the traditional and infantry units to boost their agility.
"Today in the Ground Force, specialized units such as armored, mechanized, support and artillery, quick reaction and mobile offensive units are active," he explained.
The general said the mobile offensive units possess high offensive capabilities and can act in all weather conditions and geographical areas.
MH/PA