By Samaneh Aboutalebi
Special guest China opens pavilion at Tehran book fair
April 24, 2019 - 19:13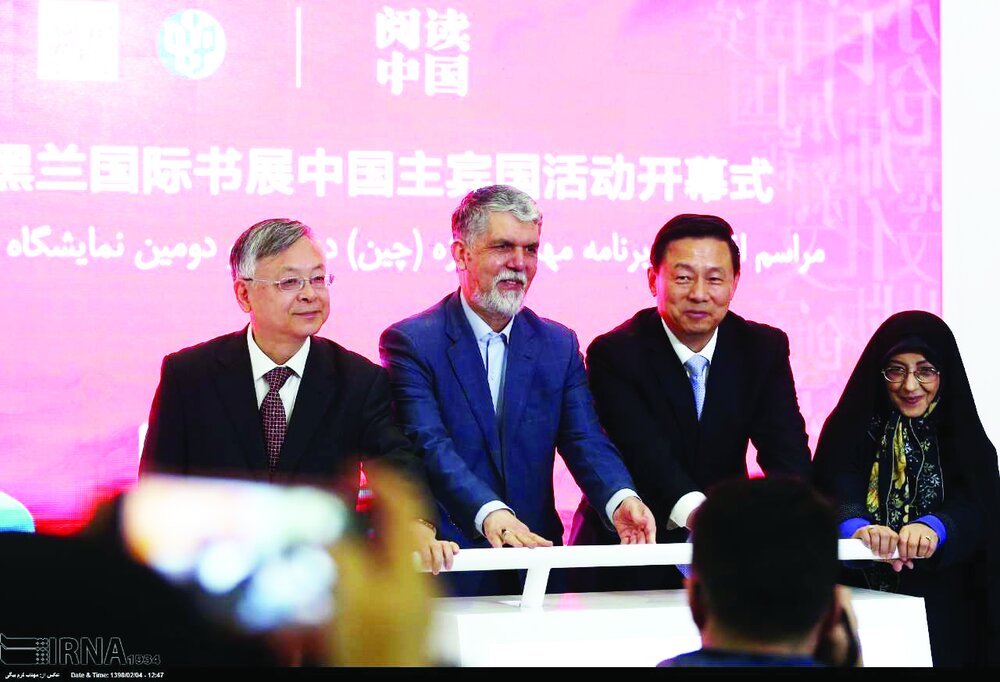 TEHRAN – China, as the guest of honor, opened its pavilion at the 32nd Tehran International Book Fair (TIBF), Iran's major event in publishing industry, during a special ceremony on Wednesday. 
The ceremony was attended by Iran's Minister of Culture and Islamic Guidance Seyyed Abbas Salehi, TIBF director Mohsen Javadi, the Vice Minister of the State Council Information Office of China (SCIO), Guo Weimin, Chinese Ambassador Pang Sen and a number of Iranian and Chinese cultural officials.
Speaking at the ceremony, Mohsen Javadi, who is also the deputy culture minister for cultural affairs, expressed his hope that the book fair can introduce the culture of the two countries to their young people.
People visit China's pavilion at the 32nd Tehran International Book Fair on April 24, 2019. (IRNA/Mahtan Karambeigi)
In his brief speech, Guo Weimin thanked Iranians for their hospitality, and the organizers for their warm reception for the Chinese guests.
"We have been in contact through the Silk Road since the ancient times, and now we need to improve the economic and cultural relations between the two countries," he noted.
As a special guest, China is participating in the book fair with the motto of "Getting to Know China".
A delegation composed of about 200 Chinese cultural figures and officials as well as over 100 publishers, writers, translators and illustrators are taking part in the book fair, which will run until May 4.
Photo: Left to right, Chinese Ambassador Pang Sen, Iran's Culture Minister Seyyed Abbas Salehi, Vice Minister of the State Council Information Office of China (SCIO) Guo Weimin and National Library and Archives of Iran director Ashraf Borujerdi attend the opening ceremony of China's pavilion at the 32nd Tehran International Book Fair on April 24, 2019. (IRNA/Mahtan Karambeigi) ABU/MMS/YAW