By Samaneh Aboutalebi
Chinese illustrator Xiong Liang eager to work with Iranian writers
April 26, 2019 - 18:54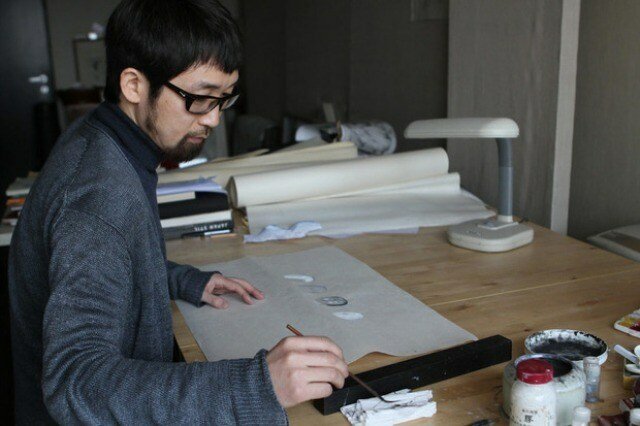 TEHRAN – Renowned Chinese writer and illustrator Xiong Liang has said that he is eager to work with Iranian writers and publishers. 
Speaking to the Tehran Times on Wednesday during a visit to the 32nd Tehran International Book Fair, which currently hosts China as a special guest at Imam Khomeini Mosalla, Liang said, "I have seen Iranian illustrators' works in several international events and I think the quality of the works are superb."
There is an attitude common to Iranian and Chinese illustrations that they represent their traditional elements in their works in a modern way, said Liang who is visiting Iran for the first time.
An exhibition of illustrations by Liang and several other Chinese artists is underway at China's pavilion in the book fair.
"I use Chinese painting techniques to create my works, which are modern," he said and added, "I am inspired by old Chinese paintings and even Buddha statues, but the final result is a modern artwork," he said.
Liang, who is also known as Kim Xiong, started his career during the 1990s. His works have been published in over 50 books.
Liang's works have been awarded in several national and international events. His book "The Little Stone Lion" received the China Times Best Children's Book of the Year Award in 2005. In addition, he also won China's Most Beautiful Book of the Year Award for "Lotus Back" in 2008.
In 2018, he became the first Chinese shortlisted for the Hans Christian Andersen Award for illustration.
"I want to tell my people's stories and introduce Chinese culture to children through painting. Children are more impressionable and can understand messages more easily, and when they grow up, they can pass it on to the next generation," he concluded.
As a special guest, China is participating in the book fair with the motto of "Getting to Know China".
Almost 200 Chinese cultural figures and officials, as well as over 100 publishers, writers, translators and illustrators from the country, are taking part in the book fair, which will run until May 4.
Photo: Chinese illustrator Xiong Liang in an undated photo.
ABU/MMS/YAW