Theater troupe to pay tribute to Hamid Samandarian with "Play Strindberg"
April 30, 2019 - 18:44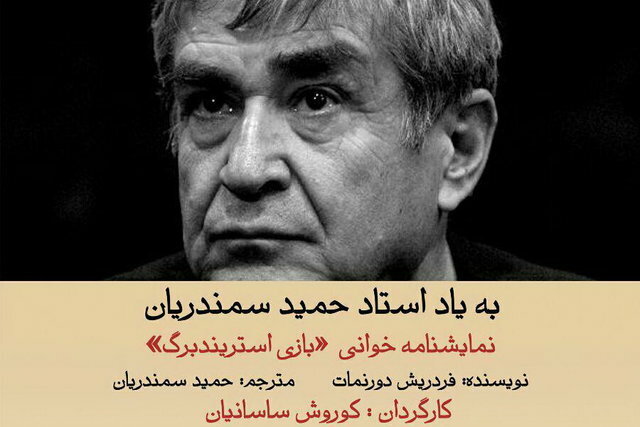 TEHRAN – A theater troupe will pay homage to prominent Iranian stage director and playwright, Hamid Samandarian, by performing a reading of Swiss writer Friedrich Durrenmatt's 1969 play "Play Strindberg".
The reading performance will be directed by Kurosh Sassanian at Tehran's City Theater Complex on Wednesday.
Sassanian, Elena Ahi and Farzin Nobarani are the members of the group.
Samandarian, who translated "Play Strindberg" into Persian in 1972, also staged the play in Tehran's theaters at that time as well as again in 1999.
Sassanian directed "Play Strindberg" with different casts in 2017 and 2018 in Tehran to celebrate Samandarian's birthday, which is on May 6.
"Play Strindberg" is a free adaptation of August Strindberg's "The Dance of Death", using Strindberg's characters.
The comedy play is about a couple, Alice and Edgar, who are disappointed by their careers, children and life, until Alice's cousin Kurt arrives after a 15-year absence.
Photo: A poster for director Kurosh Sassanian's reading performance of "Play Strindberg".
ABU/MMS/YAW