Any war against Iran will hurt all regional states, general warns
May 1, 2019 - 19:51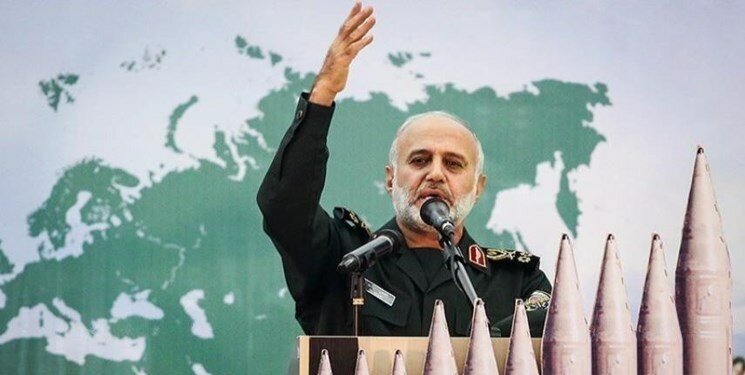 TEHRAN – Commander of the Khatam-al Anbiya Central Headquarters has warned regional countries against supporting Washington and Tel Aviv's warmongering, saying any war against Iran would hurt the entire region, Fars reported.
"We do not welcome war in the region because it will definitely benefit the U.S. and the Zionist regime, but we are men of war and will stand against any aggression and will defeat the enemy with God's grace," Major General Gholam Ali Rashid said, addressing the Army Ground Force commanders in Tehran on Wednesday.
General Rashid emphasized Iran's common interests with the neighboring countries in securing stability, security and development in the region, saying they should avoid behaviors that would serve the interests of the U.S. and Israel which do not have any goal but sowing discord and war in the region.
Pointing out that the Islamic Republic always believes in peaceful co-existence with its neighbors, Rashid said, "We always strive for this goal, otherwise the U.S. and the occupying regime [of Israel] will push the region toward crises and unpredictable incidents."
He added that the Iraq-Iraq war (1980-88) has shown that "if we do not strive to maintain enough power, we will be invaded; we will defend the interests of our people so that the life of our nation can be well protected."
The remarks come weeks after the United States officially designated Iran's Islamic Revolution Guards Corps (IRGC) as a foreign terrorist organization, according to a notice published in the U.S. Federal Register.
In response, President Hassan Rouhani signed a bill into law on Tuesday declaring all U.S. forces in the Middle East terrorist and calling the U.S. government a sponsor of terrorism.
The law specifically labels as a terrorist organization the United States Central Command (CENTCOM), which is responsible for U.S. military operations in the Middle East and Afghanistan.
"These two forces (Guards and CENTCOM) that are designated as terrorist groups reciprocally might confront (each other) in the Persian Gulf or any other region. The United States will surely be responsible for such a situation," Iranian Deputy Foreign Minister Abbas Araqchi was quoted as saying on Tuesday.
MH/PA