Hakim Mosque: elegant, iconic with perfect proportions
November 28, 2020 - 18:33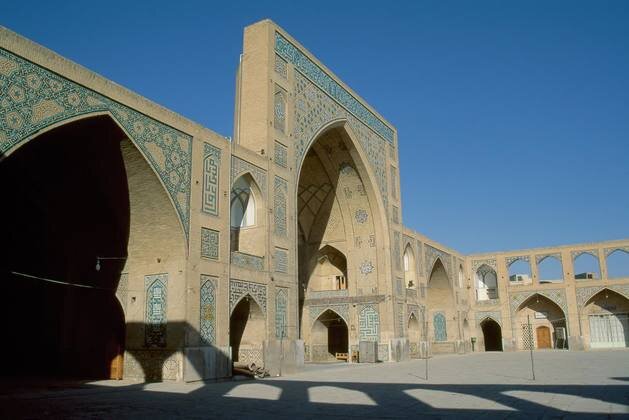 TEHRAN - This elegant mosque, with its iconic blue-tiled mosaics and its perfect proportions, forms a visually stunning monument near the bazaar of Isfahan, one of the top touristic cities in Iran.
Hakim Mosque is not only a house of worship but also a public building serving a multiplicity of uses. It is a gathering place for prayers five times a day, an Islamic college, a community center for functions with present day Western associations, and an emergency shelter for travelers.
Built in 1654 during the reign of Shah Abbas II (1648-66) by physician ("Hakim" in Persian) Daud, who fled from Isfahan to India, the mosque contains amenities, such as wash rooms and toilets, for public use.
After making his fortune there under the grand Moghuls. Hakim Daud financed this mosque in Isfahan in his name.
It is the first civic symbol one encounters after coming out of a secluded house at the end of an obscure valley.
As much as it is a container of space, it is also contained within the city fabric. The Mosque Al-Hakim has no monumental entry, but five different minor entries. Frequently, a mosque is also used as a short-cut for another destination beyond the mosque.
Although the penetration of the mosque walls may take many forms, the primary destination is always the same. It is a courtyard which can be called a monumental space.
Isfahan has long been nicknamed as Nesf-e-Jahan which is translated into "half the world"; meaning seeing it is relevant to seeing the whole world. In its heyday it was also one of the largest cities in the region with a population of nearly one million.
The cool blue tiles of Isfahan's Islamic buildings, and the city's majestic bridges, contrast perfectly with the encircling hot, dry Iranian countryside. The huge Imam Square, best known as Naghsh-e Jahan Sq. (literary meaning "Image of the World"), is one of the largest in the world (500m by 160m), and a majestic example of town planning. Built in early 17th century, the UNECO-registered square is punctuated with the most interesting sights in Isfahan.
Modern Isfahan is now home to some heavy industry, including steel factories and a nuclear facility on its outskirts, however its inner core wants to be preserved as a priceless gem.
Here is a select of comments that visitors to the mosque have posted to TripAdvisor, one of the most popular travel websites in the world:
"A delightful mosque"
This was built in 1654 by the physician of Shah Safi, Hakim Aoud, and is also known as the Doctor's Mosque. It is largely bare terracotta with simple blue geometrical designs, but also has a lavish pierced screen on the NW side of the courtyard. Both the entrance to the sanctuary's iwan and the niche containing the mimbar are delightful in their simplicity. Altogether a dlightful experience. (Rod F. from Royal Wootton Bassett, United Kingdom)
"A hidden gem"
I went there with a group of friends during the Imam Ali's religious holiday so it was full of worshippers.. This mosque is not easy to find for tourists so I'd recommend a guide.
It is really beautiful from the outside ...not too glamorous, very subtle in color but holds a lot of carving and calligraphy.
We couldn't really observe the inside as it was crowded. Visiting the Hakim mosque during this holly day/ week was quite an experience as I could sense the religious vibe from the women in there which was a great feeling! (Noura73 from Beirut, Lebanon)
"Extensive renovation work"
Visited this mosque in the early evening last night. Most of the complex is covered with scaffolding and building materials and it's a challenge to get good pics. Quite an impressive looking structure though. (KGB777 from Singapore, Singapore)
"A hidden portal"
In Isfahan the bazaar stretches all the way from Meidan-Imam (Imam Square) to the Friday Mosque, almost two kilometers away. As you walk beneath its brick arches and mud-brick domes, you might see Central Asian traders, bags full of seeds and nuts and elaborate hand-made brassware. You will know that you immersed in an 'old world' experience. What is slightly less obvious is that you are making a journey back through time in another sense, too, as the Seljuk mosque at the far end of the bazaar is half a millennium older than the Safavid-era Imam Square.
Along the way you pass several little-known but valuable ancient buildings. Perhaps the one with the greatest appeal is the Hakim Mosque.
This has a lovely central courtyard notable for its blue tiling and skillful inscriptions. However, this Safavid mosque is not the part which get architecture students excited. That honor goes to the Jurjir Portal, an old brick gateway which was discovered inside a mud brick wall in 1955. This portal dates back to the little-known Buyid Dynasty, who ruled Iran a thousand years ago. Very little architecture from this dynasty has survived, which makes this elaborate brick gateway, with its beautiful motifs, an artistic treasure. (Raymond W. from Chengdu, China)
AFM/