Petroglyphs dating back to 9th millennium BC discovered in Iran
December 29, 2020 - 21:18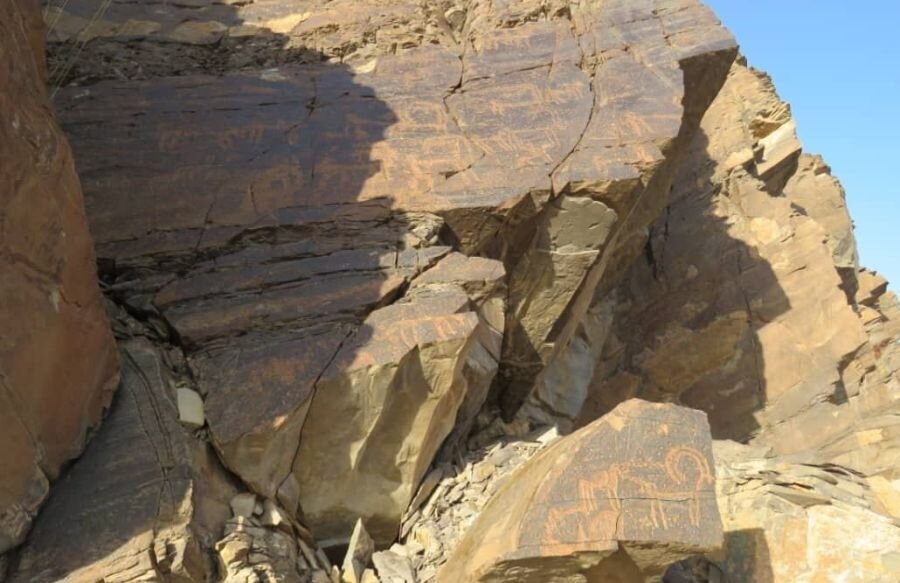 TEHRAN – Ancient petroglyphs, some dating back from the 9th millennium BC, have recently been found near the city of Nimvar, central Markazi province.
Over six hand-carved petroglyphs in different sizes scattered in a coherent collection have been found by a number of the city's history buffs, IRNA quoted Mehdi Lalbar, a local tourism chief, as saying on Tuesday.
The petroglyphs are estimated to date back from the 9th millennium BC to the 2nd millennium BC, the official added.
"This newly discovered collection, which bears depictions of animals including wild goat, is of great archaeological and historical importance," he explained.
He also noted that 126 petroglyphs have been discovered in Nimvar city so far.
Back in May, Iranian archaeologist Mohammad Nasserifard proposed a bold hypothesis on a variety of petroglyphs that are scarred in central Iran, saying "some prehistorical residents of the Iranian plateau migrated to the Americas." His assumption is based on evidence from similarities between the petroglyphs and cave painting symbols in central Iran and the ones found in the Americas.
"After years of exploring ancient paintings inside Iran's caves and mountains and other parts of the globe, amazing achievements have been made in this regard," Nasserifard said.
"The ancient paintings of cave walls and mountains in Iran have been compared with ones in other parts of the world, their similarities in appearance and motifs have been 'amazing', according to quotes by professors Jan Brouwer and Gus van Veen," Nasserifard explained, adding "His research and findings are presented to enthusiasts and researchers for the first time."
"Appearance similarities, artistic styles, and uniform themes of ancient petroglyphs and cave paintings of this land (Iran) reveal many missing links in human history and arts one of which is the resemblance of ancient artifacts in Iran with ones found in the American continent."
ABU/MG