We encountered rich culture everywhere in Iran, Russian traveler says
June 1, 2021 - 17:22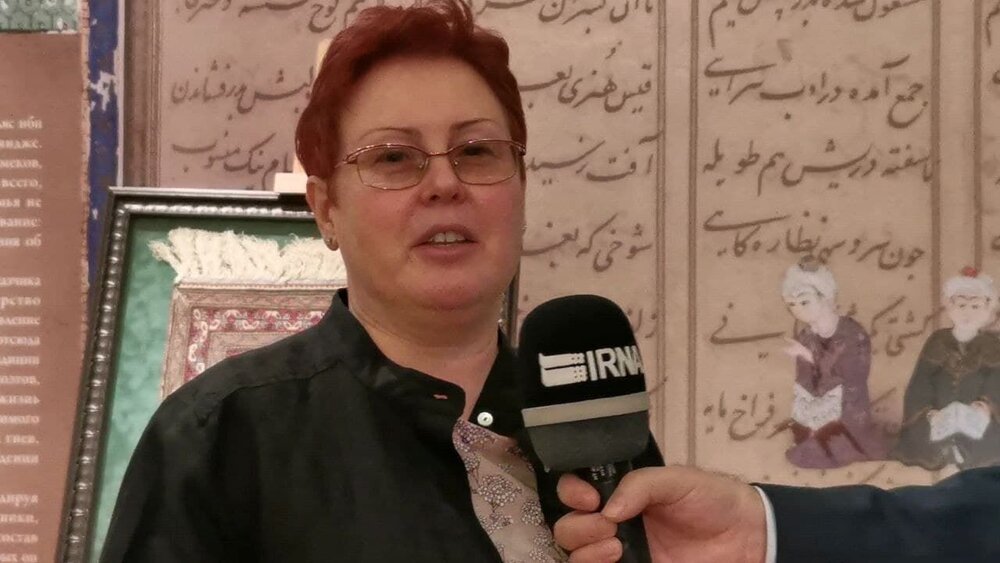 TEHRAN – A Russian woman, who has previously visited Iran, says she encountered a rich culture throughout her journey to the Islamic Republic.
"Everywhere in Iran, we encountered rich culture and enjoyed it," Lidia said on Monday in an interview with IRNA.
She changed her viewpoint on Iran after visiting this country and understanding the culture and beauties of the nation, witnessing how the Iranians are trying to protect the rich culture is very pleasant, the news agency reported.
Lidia made the remarks during her visit to an exhibition of Iranian artworks held at the East Nations Art Museum in Moscow.
She and her husband Yougni visited the country two years ago when she was "thrilled by the magnificence of the country."
They arrived in Tehran first and then continued their trip to Shiraz, Isfahan, and Yazd, where they could experience tourist attractions in these cities.
Answering a question on her view before visiting Iran, she said that they thought there are some cultural attractions in the country, but they did not think to see numerous fascinating places around the ancient land.
"Given negative propaganda against Iran, we did not think that we will see so many beauties," she said.
"When we arrived in Iran all interpretations changed and we saw how high-level is the culture of the country and how good are the people," she said, adding, "The Iranian foods were very delicious and Iran is in fact a museum under the open sky."
After the end of the coronavirus pandemic, she is determined to visit Iran once more. Many Russian people are loving the ancient country and will visit it yet again.
The exhibition, featuring Iranian arts during the Qajar era, will be running through July 25 at the East Nations Art Museum in Moscow.
Earlier this month, Mostafa Sarvari, who presides over the tourism marketing and advertising office of the Iranian Tour Operators Association, announced many Russian tourists are eager to travel to Iran, recounting his Russian counterparts. "Many [potential] Russian travelers are motivated to visit novel and lesser-known destinations such as Iran that could be a safe and attractive destination," he said.
"According to Russian tourism experts, the feedback from Russian tourists who have traveled to Iran has been very positive, and its reflection, especially on social media, has caused a great deal of enthusiasm and interest."
According to Ebrahim Pourfaraj, who heads the Iranian Tour Operators Association, rounds of negotiations have been held between Iranian tour operators, travel marketers, and their Russian counterparts. "We've been commenced talks with some Russian travel agents to put Iranian destinations on their itineraries…. And the Iranian Tour Operators Association has also entered negotiations with Russian unions for outbound tours to attract more travelers from Russia."
Pourfaraj says the majority of potential Russian travelers are unaware of the vast tourist attractions that exist in every corner of Iran. "The fact is that Iran's political and economic relations with Russia are considered as good, but this has nothing to do with attracting tourists because it is directly connected with the Russian people. It is the Russian people who must choose Iran as their destination."
The Islamic Republic expects to reap a bonanza from its numerous tourist spots such as bazaars, museums, mosques, bridges, bathhouses, madrasas, mausoleums, churches, towers, and mansions, of which 24 being inscribed on the UNESCO World Heritage list. Under the 2025 Tourism Vision Plan, Iran aims to increase the number of tourist arrivals from 4.8 million in 2014 to 20 million in 2025.
AFM