New round of restoration starts on centuries-old caravanserai in Mayamey
September 11, 2021 - 19:29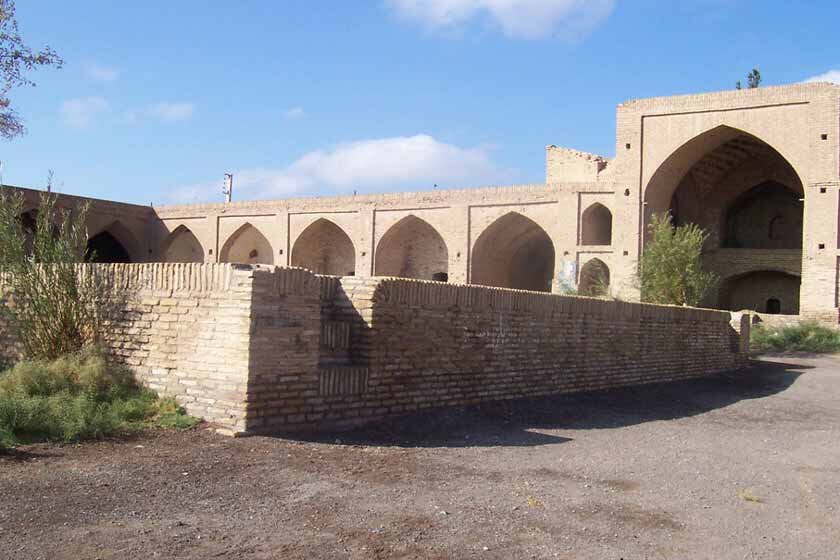 TEHRAN - A new round of restoration work has commenced on one of the once highly prosperous Shah-Abbasi caravanserais, which is located in Mayamey town of Semnan province, Mayamey's tourism chief has announced. 
The project involves repairing the damaged parts of the historical structure to prepare the vast inn for an upcoming inspection by UNESCO assessors, Seyyed Mohammad Sadeq Razavian said on Saturday.
The experts will soon visit the historical caravanserai for possible inscription on the UNESCO World Heritage list, the official added.
Due to its relatively undamaged and stable condition, as well as its convenient location on the Tehran-Mashhad road, the caravanserai can be repurposed and leased to the private sector for better maintenance and use, he explained.
There are four iwans (porches) and two entrances in this caravanserai that sprawls across 8,500 square meters. The courtyard is surrounded by rooms and platforms, and behind the rooms are stables. Unlike most caravanserais, the sanitary facilities of the caravanserai are located outside the building and on the western side.
The structure is named after Shah Abbas the Great (r. 1588 – 1629), who ordered the construction of such roadside inns across the country. The mudbrick structure was inscribed on the National Heritage list in 1986.
Iranian caravanserais being ready for collective UNESCO tag
An all-inclusive dossier of a select of Iranian caravanserais is being prepared to be evaluated during the next session of the World Heritage Committee, which will be held in 2022.
Last year, the tourism ministry announced that Iran is developing a dossier for a selection of its historical caravanserais for a possible inscription on the UNESCO World Heritage list. In this regard, cultural heritage experts are assessing such monuments that are scattered across the country to make a shortlist in terms of their architecture, historical and cultural values.
Caravansary is a compound word combining "caravan" with "sara"; the former stands for a group of travelers and the latter means the building. They often had massive portals supported by elevated load-bearing walls. Guest rooms were constructed around the courtyard and stables behind them with doors in the corners of the yard.
Iran's earliest caravanserais were built during the Achaemenid era (550 -330 BC). Centuries later, when Shah Abbas I assumed power from 1588 – to 1629, he ordered the construction of network caravanserais across the country. For many travelers to Iran, staying in or even visiting a centuries-old caravanserai, can be a wide experience; they have an opportunity to feel the past, a time travel back into a forgotten age!
ABU/AFM