Iran's Regional Music Festival opens with focus on Muslim communities' musical commonalities 
November 16, 2022 - 10:24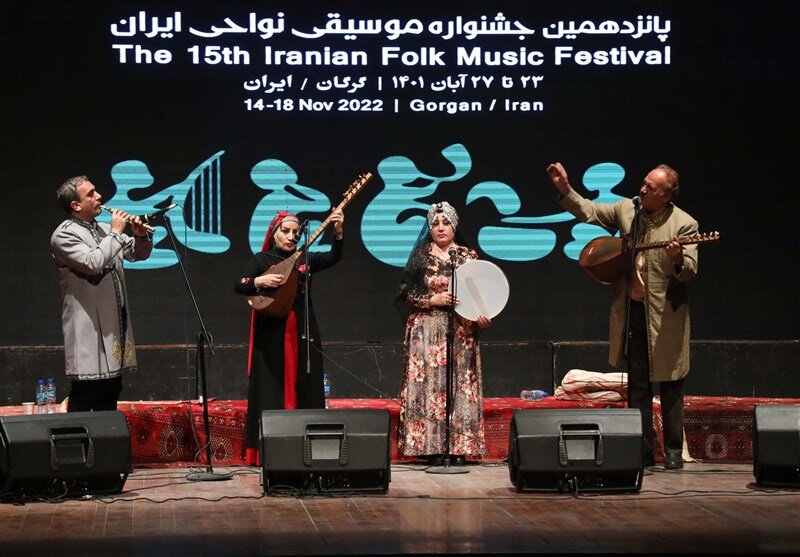 TEHRAN – The 15th edition of Iran's Regional Music Festival opened in Gorgan on Monday as it focuses on Muslim communities' musical commonalities.
This year, "the festival aims to consider the similarities in music that was performed in Muslim communities of ancient cultural Iran and present the cultural rainbow and the great Islamic unity in this artistic field," the organizers said in a statement.
About 30 groups from across Iran are scheduled to perform during the festival, which will run at Fakhreddin As'ad Gorgani Hall in the northeastern Iranian city through Friday.
Laleva, a group from Mazandaran Province, an Afghan band led by Hamid Saeli and Ashiq Ahad Maleki from the Azarbaijan region performed on the first night.
The festival is annually organized in Kerman, southern Iran, however, the organizers relocated the event to Gorgan allegedly due to disarray in the technical infrastructure of the central hall of the city, which was scheduled to host the participating musicians.
In a message sent to the festival, Deputy Culture Minister for Artistic Affairs Mahmud Salari said, "As an intangible heritage, regional music has been a prized and lively treasure representing unity, brotherhood and equality among Iranian tribes."
"Preserving the treasure and regard for indigenous and national traditions may help counter a threat of an identity crisis and maintain cultural independence," he added.
The organizers also held a meeting on Monday to discuss the affinities between Iranian music and what is common in Central Asia.
Iranian scholar Hushang Javid said, "Most of religious rituals, celebrations and ceremonies in the region are rooted in Iranian traditions and rituals."
He called the santur and sorna epic Iranian instruments, which flourished during the Sassanid period (224–651 CE). He said the instruments used to be played during battles and at royal banquets.
He also explained that the basic principles of Iranian music have always been used in reciting prayer by followers of different religions in the country.
Iranian dotar virtuoso Abdolmajid Rejim, who has taught courses in Turkmenistan, talked about dotar playing in Central Asia.
He said that the primitive form of the instrument dates from the third millennium BC, and it has been transformed in its structure over history.
Turkmen were prohibited from playing dotar for decades in the history of the country. Therefore, they made the instrument in a small size to allow them to hide it under their clothes.
Photo: A group from the Azarbaijan region performs during the 15th Iran's Regional Music Festival at Fakhreddin As'ad Gorgani Hall in Gorgan on November 14, 2022.
MMS/YAW