Russia seeks to develop communications infrastructure in Iran
November 23, 2022 - 18:23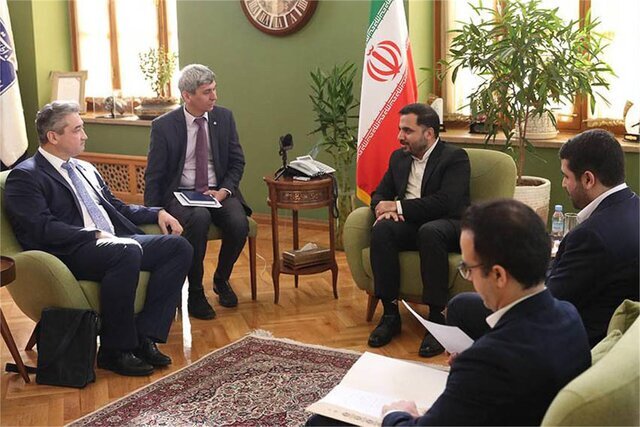 TEHRAN – Alexander Shoitov, the Russian Deputy Minister of Digital Development, Communications, and Mass Media, in a meeting with Issa Zarepour, the Iranian Minister of Information and Communications Technology, announced interest to develop communications infrastructure in Iran.
During the meeting held in Tehran on Tuesday, Shoitov said that due to the sanctions against Russia, we have planned to develop domestic production of sanctioned items within a certain period of time, and in this field, we can take advantage of the capabilities of Iranian companies.
The export of Iranian technological products to Russia was also discussed by the two sides.A team of Russian companies is accompanying me on this trip to review the joint cooperation regarding the development of communication infrastructure, investment for the development of technologies, and the export of Iranian technological products to Russia, he stated.
In Iran, knowledge-based companies have good capacities to start various cooperation with Russian parties, Zarepour said, expressing hope to remove the existing obstacles to this cooperation.
A permanent joint working group should be established to follow the issues so that the implementation of the agreements will speed up, he further suggested, ISNA reported on Wednesday.
A Russian delegation traveled to Iran to agree on bilateral cooperation in the field of telecommunications and ICT industry products.
The development and equipping of telecommunication networks at the national level, the development of mutual telecommunication capacities, increasing the areas of scientific and specialized cooperation, etc. have been other areas of discussion in these meetings.
Iranian knowledge-based ecosystem
Today, the country's knowledge-based ecosystem accounts for more than 3 percent of the GDP. And the figure is projected to reach 5 percent, however, the main goal is to step toward a 10 percent share in GDP, Sattari told Fars on February 13.
The share of knowledge-based companies in the country's economy has exceeded 9 quadrillion rials (about $34 billion), and since 2019, it has experienced a growth of more than 450 percent, he stated.
The knowledge-based ecosystem is a newly-emerged ecosystem but has so far been able to solve many of the country's problems.
The Innovation and Prosperity Fund affiliated with the Vice Presidency of Science and Technology has earmarked a sum of 170 trillion rials (nearly $650 million) to support knowledge-based companies over the past 4 years.
There are currently 6,263 knowledge-based companies operating in the country, offering advanced products and services in various fields of technology to domestic and foreign markets, and some of them have entered international markets, Siavash Maleki, deputy head of the Fund, stated.
The fields of aircraft maintenance, steel, pharmaceuticals, medical equipment, oil, and gas are among the sectors that researchers in technology companies have engaged in, leading to import reduction.
FB/MG