Some 86,000 migratory birds wintering at Chaharmahal-Bakhtiari wetlands
January 6, 2023 - 18:22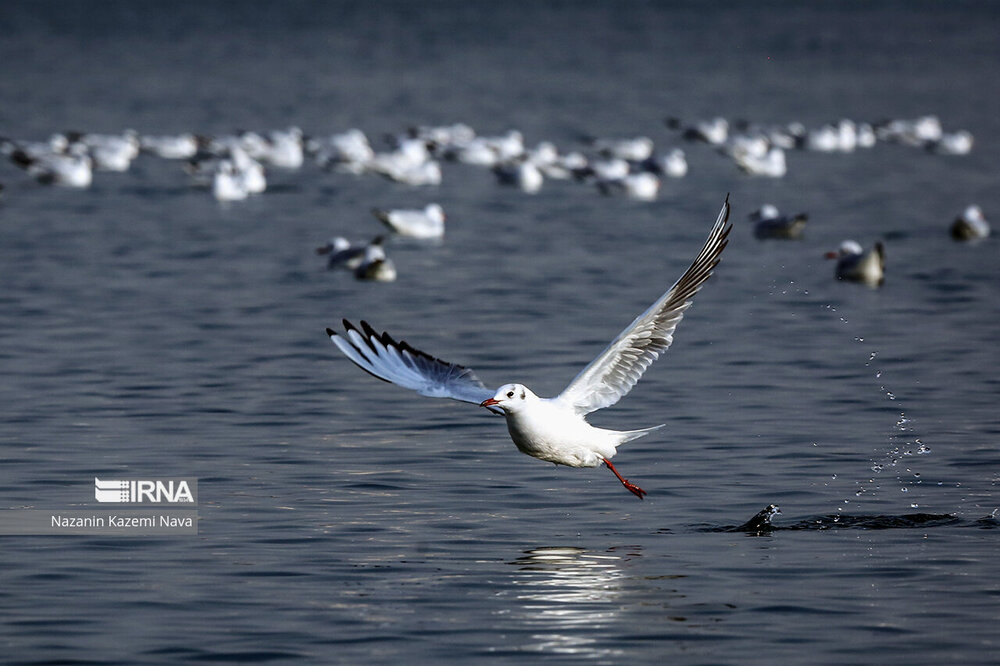 TEHRAN - Based on the latest survey, some 86,000 migratory birds are wintering at wetlands in the southwestern Chaharmahal-Bakhtiari province.
The director general of the provincial Department of Environment said the migration season of aquatic and coastal migratory birds to the wetlands and natural habitats of the province started in late October.
It is expected that the number of birds will be more than the announced figure considering that it was not possible to monitor and survey some parts of the wetlands, IRNA quoted Saeed Yousefpour as saying.
Greater white-fronted goose is one of the most prominent birds that entered the province's wetlands for wintering, he highlighted.
"Because this species is in danger of extinction, an action plan for the protection of this bird in the environment is being implemented, and we are particularly pursuing the protection of this species," he added.
In this survey, 60 species of birds have been identified, such as crested duck, oak duck, marbled duck, black-winged gladiolus, white-tailed sea eagle, wetland spotted eagle, wetland sable, types of ducks (green, fawn, eider), herons, geese, woodcock, and types of Gulls.
Safe habitats
In Iran, 141 wetlands with ecological value with an area of over 3 million hectares have been identified, of which 25 wetlands are designated as wetlands of international importance (registered in the Ramsar Convention) covering more than 1.4 million hectares and four sites are biosphere reserves.
The country is decorated with impressive wetlands that hold a great share of aquatic and bird species and wildlife. Anzali wetland, Qeshm Island, Urmia Lake, and Miankaleh Peninsula are among the most important locations for bird watching in Iran.
Iran is host to over 600 species of birds, the number of which is increasing year by year.
Miankaleh International Wetland in Mazandaran, called the birdwatching paradise of Iran, stretches to a total area of 68,000 hectares, which is home to at least 130 species of migratory species with a population of 1.5 million.
Being an impressive bird-watching destination, the wetland displays a variety of bird species such as otters, all kinds of fish-eating ducks (common goldeneye and Mergus), pelicans, flamingos, cormorants, common pheasants, partridges, mute swan, tundra swan, and coots. Ashuradeh was introduced and registered as one of the world's first biosphere zones in 1975.
Gomishan wetland in Golestan province is home to over 20,000 water birds, and more than 20 species of birds, which supports three IUCN Red List vulnerable species of waterbirds, i.e., Pelecanus Crispus, Aythya nyroca, and Vanellus gregarious, as well as the vulnerable mammal Phoca (Pusa) caspica; it is also an important staging area for the fish subspecies Rutilus rutilus caspicas.
Located at the foot of the Zagros mountains in north-western Iran, Zarivar is a freshwater wetland hosting over 74 bird species, which is designated as a Ramsar Site.
The site provides a suitable breeding and resting place for birds and other wetland animals, and due to the relatively extensive reed beds, it is an important overwintering site for northern migratory birds.
Located in Chaharmahal-Bakhtiari province, Choghakhor Wetland is flowing over 1687 hectares; designated as a hunting restricted area. It supports more than 47 bird species, with breeding populations of migratory birds such as the Northern Pintail (Anas acuta).
It supports more than 1 percent of the population of Gadwall (Anas strepera) and harbors threatened species such as the endangered White-headed Duck (Oxyura leucocephala) and the vulnerable Eastern Imperial Eagle (Aquila heliaca).
Plans to conserve wetlands
The United Nations Development Programme (UNDP) is working closely with national and international development partners to conserve Iran's wetlands.
Projects on the ground are informing best practices, improving systems, building capacities, and informing better national policies and plans, here are two examples:
The conservation of Iranian Wetlands Project (CIWP) is a joint initiative between Iran's Department of Environment (DOE), the Global Environment Facility, the Government of Japan, and UNDP in Iran.
To date, the project has supported the introduction of integrated and participatory ecosystem-based approaches for the conservation of around 38 wetlands in Iran in more than 25 provinces.

MG