Bethlehem Church in Isfahan hosts Christmas celebrations
January 7, 2023 - 20:0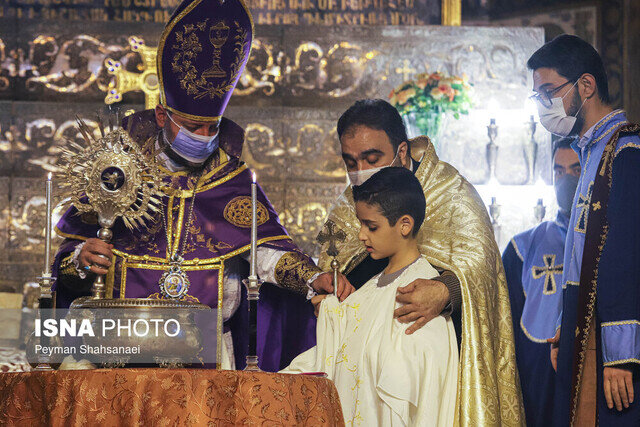 TEHRAN – On Friday, Christmas and Epiphany (baptism ritual) were celebrated in the Safavid-era (1501-1736) church of Bethlehem in New Jolfa, the central province of Isfahan.
As well as the Iranian Armenians, who follow the Oriental Orthodox denomination of Christianity and celebrate Christmas concurrently with Epiphany on January 6, the ceremony was attended by Bishop Sipan Kashjian, who serves as the religious leader for Armenians in southern Iran and Isfahan, ISNA reported on Saturday.
There were special prayers recited for blessing the water, healing the sick, and washing away sin during the ceremony, the report added.
In addition to performing religious rites, mass, and water blessing, a cross was thrown into the water as a symbol of Christ's baptism.
The Bethlehem Church is most likely the most magnificent in Isfahan because it boasts the largest dome among Isfahan's Jolfa churches.
Khajeh Petros Velijanian, a famous Safavid merchant, built the church during the time of Shah Abbas. It stands next to two other historical churches.
There are two floors in this church, which is crowned with a rectangular dome. There are two sides to the dome, both decorated with gilding and inscriptions with different dates, and the interior walls of the church are plastered. Each of them is decorated with paintings depicting biblical subjects, including the twelve apostles and the resurrection of Jesus Christ (PBUH).
In some provinces of the country, the 12 days of Christmas celebrations begin with the birthday of Jesus Christ (PBUH) on December 25 and continue until the feast of Epiphany (baptism ritual) on January 6.
While most Christians, including Protestants and Assyrians, celebrate Christmas on December 25th, Armenians celebrate Epiphany on January 6th.
On the night of January 5th and the day of January 6th, special ceremonies are held in which water consecrated with the anointing oil is divided among the attendees. A healing and consecration quality is believed to be inherent in the water.
According to Armenian traditions, they either spend New Year's Eve with their families or with someone who has recently lost a loved one.
Approximately 150,000 Christians live in Iran, and they are separated into two branches, Armenians and Assyrians.
The celebration of the birth of Christ (PBUH) by the Assyrians, the feast of Epiphany by the Armenians, and the celebration of the New Year are all held jointly by the two branches.
The Armenian quarter of Isfahan dates from the time of Shah Abbas I, who transported a colony of Christians from the town of Jolfa (now on Iran's northern border) en masse, and named the village 'New Jolfa.' Shah Abbas sought their skills as merchants, entrepreneurs, and artists and he ensured that their religious freedom was respected – albeit at a distance from the city's Islamic center.
ABU/AM