Seymareh dig uncovers relics dating from Parthian to early Islamic eras
January 16, 2023 - 19:34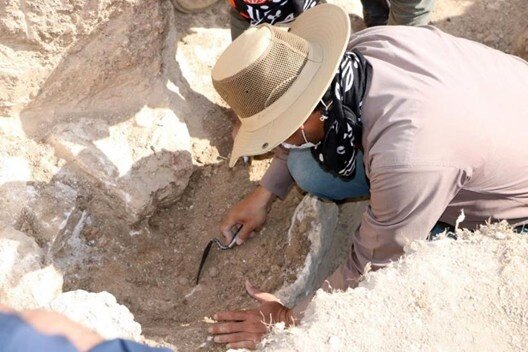 TEHRAN - Evidence from life as early as the Parthian era to the early Islamic epoch has been found by archaeologists on the boundaries of Seymareh, an ancient town in southwest Iran.
New discoveries have been made by a team from the Research Institute for Cultural Heritage and Tourism during a project conducted to help demarcate the legal limits of the ancient town.
"Recent excavations have revealed ruins and relics dating back to the Parthian, Sassanid and early Islamic eras," ILNA quoted archaeologist Jamal Sheikhi as saying on Sunday.
The findings include urban elements and ruins of landmark buildings such as the market, passageways, houses, a caravanserai and a building believed to once be a mosque, Sheikhi said.
"Currently, an area of more than 120 hectares has been remained from the historical town of Seymareh. If four layers of boundaries are taken into account, it covers an area of more than 200 hectares."
In addition to architectural remains, valuable finds such as exquisite stucco and pottery have been obtained from the recent excavations, the archaeologist said.
Every corner of Seymareh embrace architectural remains related to ordinary houses, rooms, vaulted areas, and sewage disposal systems, etc, Sheikhi added.
Seymareh was once the summer capital of Elamites, a pre-Iranian civilization dating from 2700 to 539 BC. The city also enjoyed centuries of prosperity during the Sassanid era (224 CE–651).
Covering an area of 200 hectares, the ancient city dates back to the Sassanid epoch and is believed to be built on remnants of the Elamite capital, Madaktu.
The first archeologist to visit Seymareh was Sir Henry Rawlinson. He began an expedition to the site in 1836. Jaques de Morgan also visited this historical land in 1891 and introduced it as the same ancient city of Madakto. Then it was Aurel Stein who attempted to explore it in 1936, according to Visit Iran, the official travel guide of Iran.
The archeological findings show that the city included about 5,000 houses with some modern aspects, like a water distribution system through clay pipes and underground sewers. The city was destroyed and deserted after a huge earthquake around 950 BC.
The name Elam was given to the region by others–the Akkadians and Sumerians of Mesopotamia–and is thought to be their version of what the Elamites called themselves – Haltami (or Haltamti) – meaning "those of the high country." Elam, therefore, is usually translated to mean "highlands" or "high country" as it comprised settlements on the Iranian Plateau that stretched from the southern plains to the elevations of the Zagros Mountains.
AFM