Martian Mountains, Makran coast hold high potential for tourism, minister says
January 20, 2023 - 18:11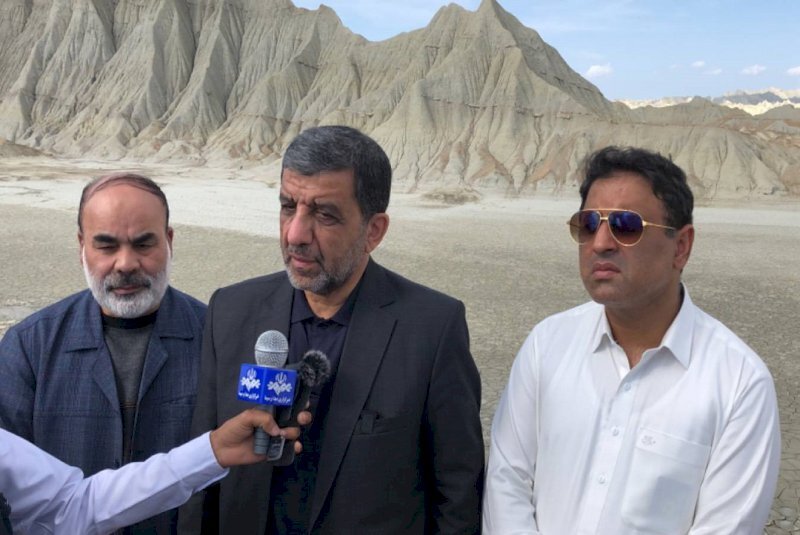 TEHRAN – The Miniature Mountains and Makran coastal strip, in Chabahar, southeastern Sistan-Baluchestan province have a high tourism potential, Cultural Heritage, Tourism, and Handicrafts Minister has said.
A good tourism opportunity should be provided for these areas as these two attractions offer great ecotourism potential, said Ezzatollah Zarghami on Thursday, while visiting the city.
In this area, tourism-related projects will be initiated with the help and support of the ministry, and a number of infrastructure projects will be designed, he added.
Along with the Miniature Mountains in this area, Makran coast is a valuable resource that will hopefully become an important tourist attraction in the future, he mentioned.
The Miniature Mountains is a set of natural phenomena that provides a truly unique travel experience for tourists and nature lovers alike.
Locals call it "Koohaye Merikhi", which means "Martian Mountains", since it seemed as if aliens – in this case, people from Mars – built them, and their curvy scenery stands in strong contrast with the surrounding landscape.
Five to 100 meters is the height of the mountains and there is no vegetation in their grooves of them. The texture is highly resistant and feels like a hard rock when climbing. It is rare, however, for people to climb these mountains, as the pleasure of sight outweighs that of climbing.
Geologists have offered different explanations for the formation of these mountains. While some believe they are a continuation of the Zagros Mountains, a range that ends in Pakistan, others believe they were buried under tons of soil thousands of years ago, and have come to light as climate change and seasonal rains washed soil off their faces.
Located in the southern part of the Sistan-Balouchestan province, Makran is a semi-desert coastal strip along the coast of the Gulf of Oman.
The narrow coastal plain rises rapidly into several mountain ranges. Of the 1,000 kilometers of the coastline, around 750 kilometers are in Pakistan. Makran is very sparsely inhabited, with much of the population concentrated in a string of small ports including Chabahar, Gwatar, Jiwani, Jask, Sirik, Gwadar, Pasni, Ormara, and many smaller fishing villages.
Shahid Beheshti Port, which is Iran's only oceanic port, is the main port of the country on the Makran coast.
Chabahar is the only ocean port in Iran and the best and easiest access route of the middle Asian countries to free waters. Boasting various natural and historical attractions, Chabahar could be named one of the most underrated destinations in Iran. However, in recent years, various measures have been taken to promote the port as a safe and hospitable choice for both domestic and foreign visitors.
For decades, Sistan-Baluchestan was shunned by potential foreign travelers though it is home to several distinctive archaeological sites and natural attractions, including two UNESCO World Heritage sites of Shahr-e-Soukhteh (Burnt City) and Lut Desert, shared with Kerman Province.
ABU/AM